RESTAURANT OPENINGS
Eat Beat First Look: Trader Vic's
Your exclusive first look inside the storied tiki destination's new Pearl District location, offering a free $100 gift certificate to one of our readers.
Heads up, tiki fans: we've got your first inside look at the return of Trader Vic's to Portland. Designed to showcase Polynesian artifacts from Vic Bergeron's family over the past 75 years, the swingin' Island interior is packed with hand-painted bark wall coverings, witch doctor masks, hanging glass fishing floats, and plenty of mid-century tiki kitch to keep your nostalgia—real or invented—occupied all night long.
Foodie Freebie: Want to score a free tiki feast and check out the new Trader Vics for yourself? Eat Beat's got a locked-and-loaded $100 gift certificate that may just have your name on it. How to win: Head over to the Portland Trader Vic's website, check out the food and drink menu, and let me know which item on the menu you're most excited about. You've got until next Monday at 5 pm to email your selection to [email protected] with "Trader Vic's" in the headline, and I'll pick one winner at random for a night of good eats, Island style. Good luck!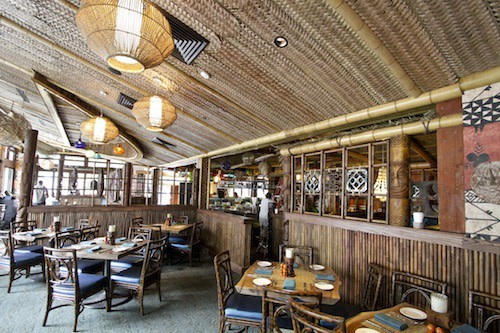 As noted, opening night is slated for August 1st, but the space is already packed with eye-candy from wall to wall. Paper lanterns, masks, and plenty of bamboo detailing come together for a visual vacation that's certainly a far cry from many white-walled Portland bistros.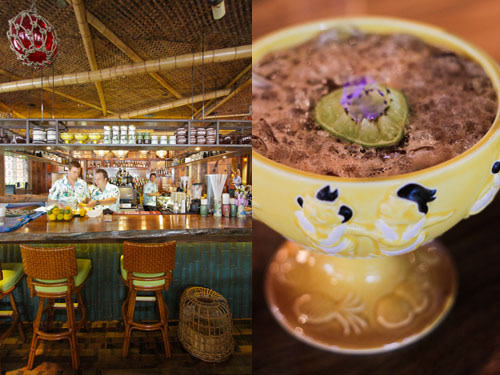 Yes, that drink is on fire. Trader Vic's bar menu includes the Samoan Fog Cutter (rum, gin, brandy and sherry with orange juice and Orgeat syrup), Scorpion Bowl (a blend of rums, fruit juices and brandy for 4), Tiki Puka Puka and the original Mai Tai.
With so many masks on the wall, you may think the spirits of some Polynesian tribe are judging you for ordering another drink. They're not.
The kitchen, manned by executive chef Michael Broderick, is already a center of high-energy activity, with pork ribs in the wood fired Chinese Oven and a stacked burger that will try to stack up to Portland expectations.
The playful drink menu is dedicated "to those merry souls who make drinking a pleasure; who achieve contentedness long before capacity; and who, whenever they drink, prove able to carry it, enjoy it and remain ladies and gentlemen"…while drinking fruity rum drinks out of a barrel with four straws!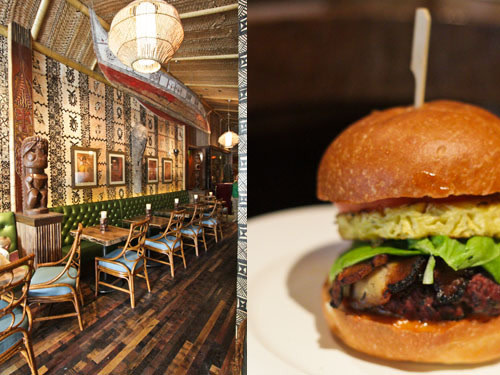 Trader Vic's burger, available on the Lounge Menu, is layered with pork belly, pineapple, Tillamook aged cheddar, and Vic's mayo ($10). Add a big basket of Vic's fries with curry ketchup and aioli for $3 more.
Large glass fishing floats hang above the bar's collection of kitschy cocktail glasses, from skulls and seashells to hula dancers and rum barrels. Portland's signature cocktail, Nelson's Blood, is a combo of blood orange puree, dark rum and ginger beer.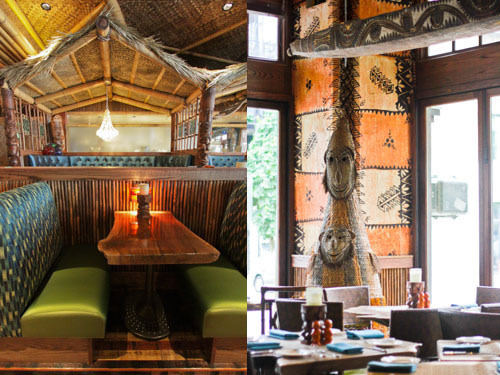 The large restaurant is divided into several seating areas, from intimate private dining tables under palm canopies to rowdy barstools and lime-green vinyl booths.
Trader Vic's Portland 1203 NW Glisan St. (503) 467-2277
Monday through Thursday 3 pm to midnight; Friday and Saturday 3 pm to 1 am; Sunday: 10 am to Midnight; Happy Hour: 3 to 7 pm and 10 pm until closing, every day.