FOOD AND WINE EVENTS
Eat Beat Pre-IPNC Dinner Guide
Sure, tickets to the big weekend have been sold out for months, but there are plenty of opportunities to clink glasses at these pre-IPNC dinners and events.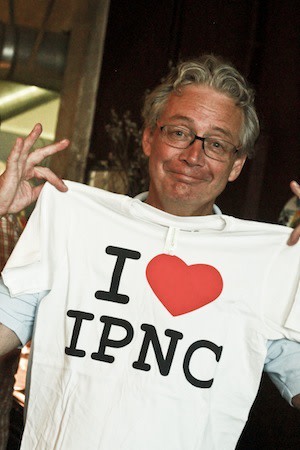 The International Pinot Noir Celebration will be pouring into the local wine country for its 25th year on July 29-31, with 70 international Pinot Noir producers, 50 Northwest chefs, and guests hailing from every corner of the globe. It's kind of like the Cannes Film Festival, but with less ball gowns, less movies, more fleece, and way more drinking. If you haven't snagged a ticket by now, start saving for next year—the event sells out months in advance—but have no fear, you can still get a taste of IPNC's Pinot-powered party. Each year, on the Thursday before the big weekend, Portland chefs team up with local wineries for dozens of raucous pre-IPNC events, and I've assembled your passport to the events worth a trip out to wine country. Come on, you know you don't have anything really important to do the next day.
(P.S. If you can't make it out Thursday night, there are plenty of tickets left for IPNC's Passport to Pinot on Sunday, July 31. All 70 participating IPNC wineries will pour for Oregon's largest outdoor wine tasting, and fifteen of the northwest's top chefs will offer up summery pairings. This year's Passport to Pinot chefs include Genoa's David Anderson, Bar Avignon's Jeremy Eckel, Ken's Artisan Bakery's Ken Forkish, June's Greg Perrault, and many more. For ticket information, head over to the IPNC website.)
Andina + Youngberg Hill Vineyards – Not only is July 28th the official unofficial kick-off of IPNC, it's also Peruvian Independence Day! Andina will whip up a five-course Peruvian tasting menu paired with Youngberg Hill's wines, including Peruvian cebiche, Spanish octopus with a Botija olive purée, sugar-can skewered shrimp, smoked sweetbreads, buffalo tenderloin with baby red bananas and a poached egg.
$150; For reservations call 503-472-2727 or email [email protected]
Grüner + J.K. Carriere + Brooks Wines
If you've always wanted to try Chris Israel's cuisine on top of a mountain surrounded by grape vines and moonlit trees, boy have I got the event for you. Join Janie Heuck, Chris Williams, and Pascal Brooks of Brooks Wines and Jim and Allison Prosser of J.K. Carriere Wines for a night of delicious food and top-notch wine.
$125; For reservations call 503-554-0721 ext. 3, or email [email protected]
Simpatica + Domaine Serene
Trek out to Domaine Serene's Dayton winery for an evening of wines, cocktails, and hors d'oeuvres from Chef Scott Ketterman. Taste hard to find and yet-to-be-released vintages of the exclusive "Monogram" Pinot Noir while taking in the stunning views surrounding the vineyard.
$65; For reservations, call Nicole at 503-864-4600 ext. 207, or email [email protected]
Red Ridge Farms + Tons of Wineries
If an exclusive tasting with one winery isn't enough for you, head out to the idyllic Red Ridge Farms in the Dundee Hills for an evening of twelve northwest wineries (think 1789 Wines, Anthony Dell Cellars, Cliff Creek Cellars, CAW Wines, Durant Vineyards, Ghost Hill Cellars, Merriman Wines, Morgan Meadows, Robison Ranch Cellars, Trout Lily Ranch, Wy'East Vineyards, and Z'IVO Wines) with views of Red Ridge's olive orchards and lavender farm.
$55; For reservations call Rebecca at 503-852-0108 or email [email protected]
Recipe + Torii Mor + Hirsch Vineyards
Chef Paul Bachand of Newberg's Recipe is opening his restaurant—housed in a beautifully restored Victorian—for a four-course dinner paired with wines from Torii Mor and Hirsch to celebrate the kick-off of IPNC. The dinner will showcase the best of Oregon's summer bounty, including produce from Simington Gardens, Yamhill River Farms, and Misty Mountain Mushrooms.
$125; For reservations call Monique at 503-554-0105 or email [email protected]
Genoa + Soter Vineyards
Join owners Michelle & Tony Soter for a feast at the edge of their estate vineyard at Mineral Springs Ranch in Carlton. The meal will include sparkling wine with appetizers and four courses from Genoa's Daniel Mondok. Sample Soter's current release and cherished library wines next to the vines that produced them.
$100; For reservations, call Courtney at 503-662-5600 or email [email protected]
Aviary + R. Stuart & Co Wine Bar
Chefs Sarah Pliner, Jasper Shen, and Kat Whitehead from Portland Darling Aviary will be taking over the kitchen at downtown McMinnville's R. Stuart & Co Wine Bar for a five-course meal and plenty of wine. This is a great time to support Aviary's chefs, as they make repairs at their own restaurant after the 4th of July fire.
$125; For reservations, contact Rebekah at 503-472-4477 or email [email protected]
Portland Restaurants + Food Carts + International Wine
If food cart wine pairings are more your style, head over to Anne Amie Vineyards for a night of street food and international wine at Counter Culture 2011. Think Beaker and Flask, Biwa, Lovely's FiftyFifty, Chef Jason Barwikowski, Ping, ¿Por Que No?, Ristretto Roasters, Violetta, Apizza Scholls, and Podnah's Pit. Featured wines include Oregon's Grochau Cellars, Teutonic Wine Co., Lemelson Vineyards, Van Duzer, and Anne Amie's own selections, Washington's Syncline Winery, Cobb Wines, Saintsbury, Lincourt Vineyards from California, Mt. Difficulty Wines from New Zealand, Tantalus Vineyards from Canada, and Weingut Wieninger from Austria.
$60; Contact Ksandek at 503-864-2991 or email [email protected]
FOODIE FREEBIE BONUS: Win tickets to Anne Amie's Counter Culture 2011! Email [email protected] with your favorite guilty-pleasure wine pairing (think Riesling and pickles or Pinot Blanc with cold cereal) and you could win two tickets to Counter Culture complete with round-trip transportation from Portland by Double Decker PDX. See you in wine country!