HAPPY HOUR OF THE WEEK
Happy Hour of the Week: Clay's Smokehouse
With a wide variety of $5 baskets boasting comforting BBQ bites, this Southeast eatery provides wallet friendly flavor bombs for all.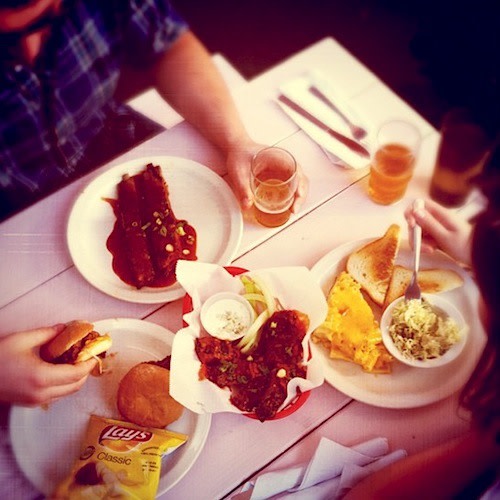 I'm not going to try and reinvent the BBQ criticism wheel, but suffice it to say that in my world, BBQ should be saucy, and it shouldn't be complicated. Clay's Smokehouse on SE Division and 30th has been serving up un-messed-with smoked meats, beef ribs, hot links, and blackened fish for over a decade, and the sweet sauce gets everywhere, so they meet my criteria. Sure, plenty of 'cue connoisseurs will argue with me, but I'd just shake my head at them and point at the jaw-droppin' happy hour prices. You just can't argue over a big plate of tasty food for $5, nuff said.
Everything here is smoked in-house, to which any commuter traveling home on SE Division can attest—you can smell the allure of the Smokehouse from five blocks away. No, this isn't traditional southern-style BBQ, but Clay's is a great go-to for a rib-sticking meal, a pint of beer, and some truly welcoming service. Best of all, Clay's happy hours are more than generous -you can snag the $5 basket deals from 2 to 5 pm Wednesday through Friday, and 11 am to 2 pm Saturday and Sunday (aka lunch time) – so there are plenty of opportunities to get BBQ sauce all over your face.
Eat me:
Choose from a nice selection of $5 BBQ baskets, including sauce-slathered beef ribs or chicken with homefries and slaw, hot links with red beans and rice, two shredded brisket sliders (yes, with a bag of Lays chips and a pickle), a slice of home-style macaroni and cheese with slaw and Texas toast. A large Caesar salad ($5) gets topped with house-smoked chicken or salmon for just $2.50.
A la carte beef ribs are just $1.50, and a half dozen messy hot wings with real blue cheese dressing will set you back only $4.50.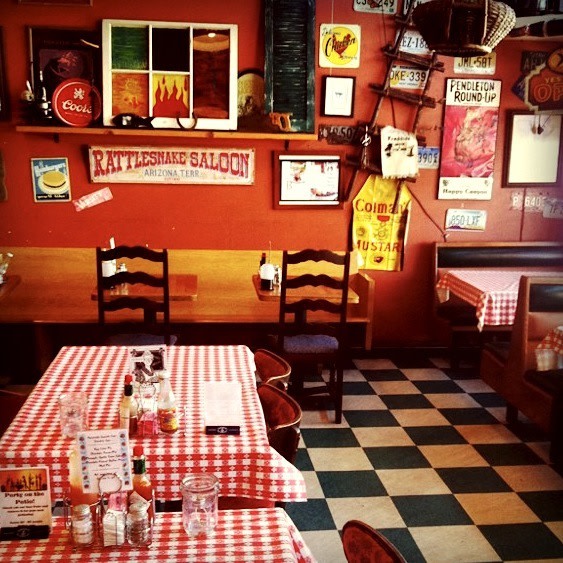 Super sides: A few of the happy hour baskets come with Clay's poppy seed coleslaw, a sweet and savory variety that hits all of the tastebuds that aren't already tickled by the main course. The rib and chicken baskets come with slaw and some truly devilish homefries slathered in creamy garlic sauce, a combo that had me going back for just one more bite after I was stuffed to the gills.
Drink me: With $1.50 pours of Rainier and $3.50 pints of a few selections on tap—including Fearless Scotch Ale, Anchor Steam, Deschutes Summer Ale, Sapporo, and Amnesia IPA—you're bound to find something cold to suit your liking that will help wash down your ribs.
Dog Friendly Bonus: The good people at Clay's were more than happy to bring my pup a bowl of water, and the eatery's cozy side patio provides plenty of space for covered outdoor imbibing, with or without your four-legged friend.
Clay's Smokehouse 2932 SE Division St (503) 235-4755
Happy Hours: Wednesday through Friday, 2 to 5 pm
Saturday & Sunday 11 am to 2 pm