Random Notes
News, News, News
Too much going on for one Bar Pilot!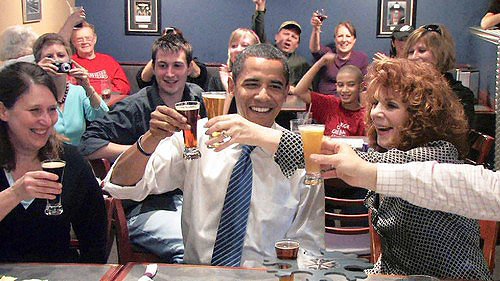 I knew it was going to be one of those days when I bent over to get a drink of water from a Benson Bubbler—only to discover that some miserable wretch had just hurled into it. Talk about a rude awakening. Anyway, on with the news!
ITEM: Drinking Buddy For Life Jen Lane of BarFly fame will be hosting one of her free-floating pop-up Happy Hours today at the Slammer Tavern (500 SE Eighth Ave) from 5-8. That in itself is reason to make an immediate reservation, but the real cherry on the sundae is an appearance by none other than Frank Furter and the Hot Dogs! Mr. Furter is without a doubt the finest troubadour that performs in a hot dog costume in the entire Northwest. So haul your buns over there, you weenie! There will be drink specials and (can this be right?) FREE HOT DOGS!
ITEM: Next weekend marks the return of Portland's annual tropical drink wingding Tiki Kon. For those desperately in need of some suave saucing opportunities, this little island-hop can't be beat. On Thursday July 14, there's a tiki-inspired fashion show at Tony Starlight's Supperclub (3728 NE Sandy Blvd) starting at 8 PM. On Friday the 15th, the faithful will gather at Ella Street Social Club (714 SW 20th Place) for a surfin' safari with righteous rock ensembles Guantanamo Baywatch, Surf Weasels, and Wave Sauce! And the Big Kahuna bash, the Tabu Extravaganza, will put a stopper in the bottle on Saturday the 16th at the Kenton Masonic Lodge (8130 N. Denver Ave). This sophisticated soiree will include exotic foodstuffs, vintage vendors of all sorts, and the musical stylings of Sneaky Tiki and the Lava Lounge Orchestra! Good lord people! What more could you possibly want?
ITEM: Hurray for Oregon Craft Beer Month! The Cans Fest is this Saturday at the Guild Public House from noon till 10 PM. And next weekend boasts the Portland International Beer Fest at the North Park Blocks, which is quickly followed by Puckerfest V, a celebration of sour beers at Belmont Station (12-14 rotating taps daily) that runs from Monday July 18 through Sunday July 24, a lovely preamble to the Oregon Brewers Festival.
ITEM: Speaking of the OBF, the July issue of Portland Monthly includes a dandy little insert called Passport to Beervana, a cool contest that invites local brew fans to patronize at least five brew pubs in order to collect "stamps" for their "passports." Once your passport is fully stamped, you must drop it off at the Information booth at the Oregon Brewers Festival in order to be eligible for a grand prize drawing that's truly grand. The winning passport will get round-trip tickets to the Great American Beer Fest in Denver (Sept 29-Oct 1). For you cheapskates that, for one reason or another, are unable to buy a copy of the July issue, you can download your own Passport to Beervana here. Remember, you can't win if you don't enter. Drinkers, start your engines!