Market Watch
Kohlrabi is King
This beautiful green vegetable gets less attention than broccoli or kale, but it's too versatile and delicious not to try.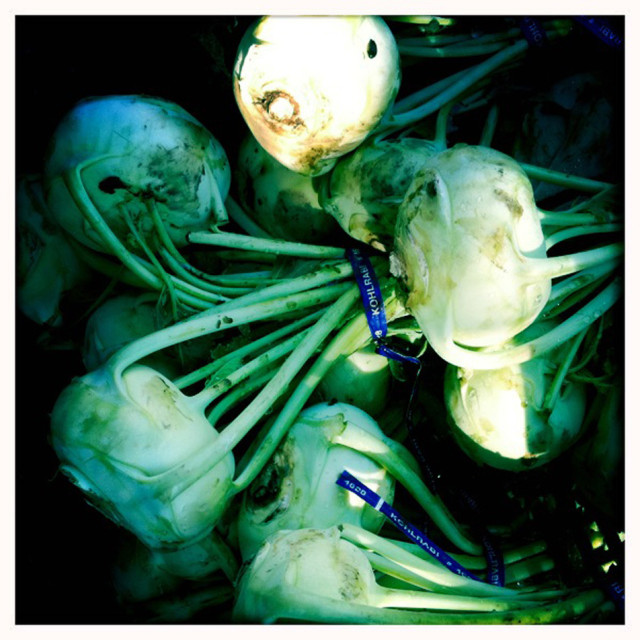 Farmers markets are great for widening our horizons of the vegetables that exist beyond what went from frozen boxes to our dinner plates when we were kids. Kohlrabi is one of those unsung veggies. Its sinuous pale green body and broad smooth green leaves caught my eye at the St. Johns Farmers Market the other day. And though kale may still be king on my list of favorite vegetables, now that I've tried kohlrabi, I predict the cousin of cabbage is trending up.
Kohlrabi is in season right now, along with a host of other greens, but it's even more suitable to a wide range of dishes and uses than the usual spinach, chard, or collards. With its large, abundant leaves and firm, bulbous base, it offers both crunch and tender dark greens, all of which you can eat raw or cooked. Peel and slice the base to eat raw like apple or broccoli, or shred it raw into salads. Both base and greens cook up well by sautéing, steaming, or boiling.
The word kohlrabi is German for cabbage turnip, and though it looks like a leafy green on top of a root vegetable, it is neither. According to the Joy of Cooking, it is a "swollen stem." Who knew such a thing existed, let alone tasted so dee-lish?
This recipe from Simply in Season is easy and great. We used frozen peas, but fresh shell peas are available in the farmers' markets these days too, so if you have the time to shell, go for it.
½ cup onion (chopped)
1 clove garlic (minced)
In a large soup pot, sauté in 1 tablespoon oil about 3-4 minutes.
½ teaspoon dry mustard
½ teaspoon ground cumin
¼ teaspoon ground turmeric
¼ teaspoon ground coriander
Add and stir-fry for about 30 seconds.
1 cup kohlrabi bulbs (peeled and chopped)
1 cup potatoes (chopped; peeling optional)
Add and stir briefly.
1 cup tomatoes (chopped)
½ cup water
¾ teaspoon salt
½ teaspoon sugar
Add; bring to a boil, then simmer until vegetables are crisp-tender, about 15 minutes.
Kohlrabi leaves (finely chopped)
Add and simmer 8-10 minutes.
Stir in and cook until peas are tender. Serve over rice.
(Recipe from Jessica Seem, Brooktondale, NY, published in Simply in Season by Mary Beth Lind and Cathleen Hockman-Wert.)