HAPPY HOUR OF THE WEEK
Moonshine at Sunshine Tavern
Sunshine Tavern's late night happy hour brings satisfying treats to SE Division between 10 and 11 every night.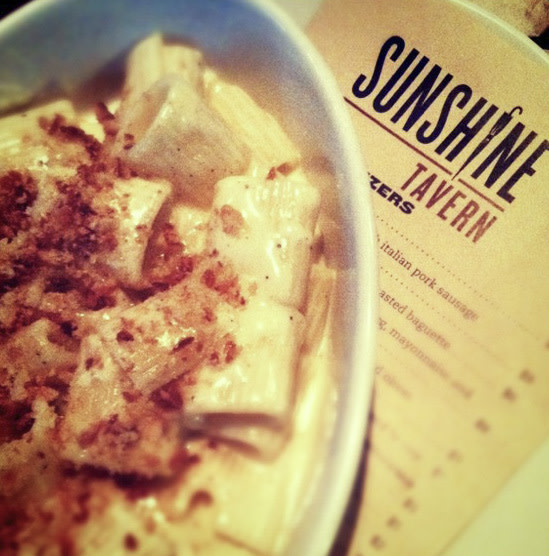 For a place called Sunshine, Jenn Louis and David Welch's neighborhood bar sure loves the night. Sunshine Tavern recently debuted its late night happy hour, chock-a-block with hot gut-pleasing goodies slathered in cheese, gravy, tomato sauce, and more cheese (plus one killer salad).
Sunshine's Happy Hour offerings feel like grown-up versions of those guilty pleasure late-night dorm meals—think reinvented pork rinds (pork cracklin's with pimenton and sea salt, $2), mac and cheese (thick cylinders of rigatoni covered in a decadent sauce of white cheddar, parmesan and fontina with a generous sprinkle of garlic breadcrumbs, $5), cheesey french fries (Gravy cheese fries with italian pork sausage gravy, heavy on the fennel and even heavier on the delicious, $5), ham and cheese sandwiches (Jambon burre royale with butter, maldon salt, radishes and fennel, $5), and yolk-centric egg dishes (Baked eggs with tomato sauce, cured black olives, and salty tesa, $5).
Imagine how great college would have been if Jenn Louis had prepped your late-night munchies! She'd likely make you eat your greens, but oh, what delicious greens they'd be. My favorite dish of the night was the romaine salad with fried capers, parmesan and garlic vinaigrette ($5) – a classic Caesar that was simultaneously bright, creamy, crunchy, and filling (a perfect counterpoint to the unctuous flavors of every other dish).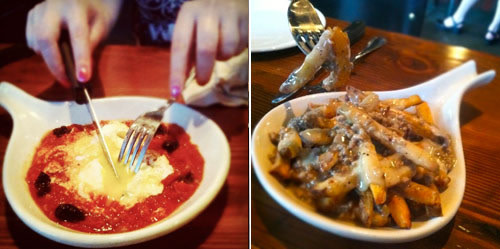 On the liquid side of things, Sunshine Tavern isn't afraid to play with their beer. Try the Margavesa (half slushy margarita, half pilsner), the sweet and summery Lemon Shandy (EKU Pils and lemonade), the savory Michelada (EKU Pils, lime juice, Worcestershire sauce, tabasco, salt, and pepper), or a classic Red Beer (EKU Pils, housemade spicy tomato mix, horseradish, lime juice and tabasco), each only $5 all day long. During Happy Hour, draught beers are $3, and certain specialty cocktails, house-made slushy margaritas, and pours of house wine are all $5.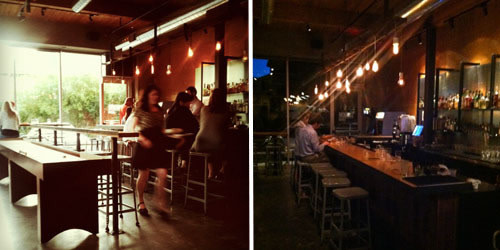 Next time you're cruisin' down Division when everyone else has flipped their handpainted door signs from OPEN to CLOSED, stop into Sunshine Tavern for a sip, a bite, a shot of Pac-Man, and a side of shuffleboard, and smile the night away.
Sunshine Tavern 3111 S.E. Division St – 5 to 11 pm seven days a week. Overwhelmingly kid friendly, all hours.