Beer Bulletin
Pre-Fest Functions
Let's warm up for Oregon Brewers Festival this weekend!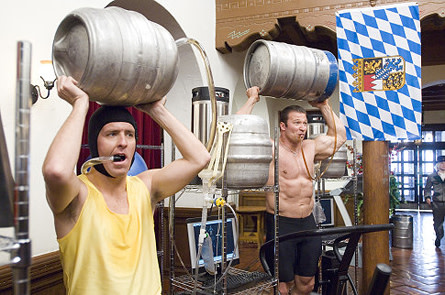 You call that drinking?
Look, I know it's hard and sometimes you just want to throw in the towel, but real competitors who want to become champions maintain their training regimens. While some misguided individuals cling to horse-and-buggy theories about reducing their beer intake—or even drying out completely—in the days leading up to the Oregon Brewers Festival, I'd just like to make myself perfectly clear: It's Oregon Craft Beer Month, and as such requires redoubled efforts. Please don't make me question your commitment.
For beer believers looking to sharpen their sipping skills, there are a trio of opportunities to do so coming up—starting tonight!
Farmhouse Brews at The BeerMongers
Looking for something a wee bit different? Skate on down to The BeerMongers bottle shop on SE Division for some ale expertise from the Old Country. Alex Ganum from Upright Brewing, David Logsdon and Charles Porter from Hood River Logsdon's Organic Farmhouse Ales, and Michael Wright from Beetje Brewery will be on hand to pour some singular suds. Ganum's offering, the Alphaphylactic Hop, is described as an "imperial IPA hybrid," while Beetje's Urban Farmhouse Ale and Logsdon's Seizoen and Seizoen Bretta are throwbacks to small-batch brewing traditions that originated in Belgium and France in the 18th century when farm owners figured out that keeping their workers hydrated with rough, unfiltered beer was a proper way to ensure loyalty and diligence. I tried this line of reasoning with my own boss, but was immediately threatened with disciplinary action.
LOLA: A Celebration of Women in Beer at Saraveza
LOLA stands for Ladies of Lagers and Ales, a determined group of women brewers from some of the best breweries in the state. Bend Brewing's Tonya Cornett is probably the most visible member of this fledgling organization, but lady brewers from Oakshire, Lucky Lab, Hopworks, Natian, Full Sail, and Heater Allen also will be present with some of their handpicked beers that should dispel any lingering vestige of sexism that may still linger in this particular chapter of the Old Boy's network.
I was unaware that "Ben" was such a mundane moniker in the brewing community! Apparently there are "Bens" working at Widmer Brothers, Breakside, Occidental, Lucky Lab, and Hopworks. Starting at 5 PM on Monday, Benophiles can sample beers from more than a half-dozen breweries that wisely chose to employ guys named Ben. Hey, I've accepted flimsier excuses than that for a beer throwdown.
UPDATE!
Portland Monthly's Picnic for Forest Park
I neglected an event for Sunday! How could I be so stupid? Portland Monthly is having a picnic for Forest Park this Sunday. Of course you're invited!