Beer Bulletin
OBF: Day One
The crowd is growing and the taps are flowing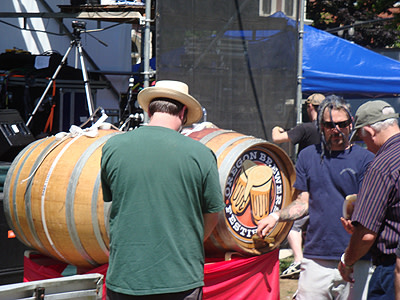 Let the games begin.
The 24th edition of the Oregon Brewers Festival is off and running. I've just returned from a beer blogger event hosted by OBF volunteer and brew brainiac Noel Blake, where 15 specially selected beers were poured for the benefit of a very thirsty local media. If I can somehow decipher my childish scrawl I'll share the highlights and lowlights.
Dogfish Head Craft Brewery: Black & Red
Dogfish owner Sam Calagione is considered royalty among the brewing cognoscenti—and with good reason. The little brewery from Milton, Delaware is always pushing the "bigger, better, bolder" envelope and this year's entry in the OBF is no exception. The Black & Red weighs in at a formidable 10.3 percent alcohol and tastes like it should be served in a sherry glass. Chocolate, mint, and raspberry notes dominate while the low carbonation gives it a soupy, syrupy mouthfeel. It's a monster. Handle with care.
Ninkasi Brewing Company: Helles Belles
A very uncharacteristic Ninkasi, in that the hops stay in the back seat and the malt is front and center. The first note I wrote about this one was "cornbread?" For a lager, Helles Belles is remarkably full-bodied and rich.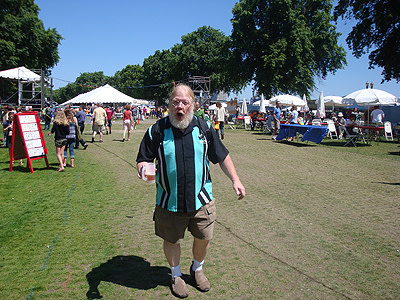 Upright Brewing Company: Offen Weisse
I've never met an Upright brew that I didn't like, and their record is still good. This German wheat beer has a rounded, fruity taste that's dry as a bone. This would be a fantastic session beer. In fact, please invite me to that session.
Burnside Brewing: Gratzer
Based on an old Polish style it's a smoked wheat pale ale that really smokes! To achieve that perfect campfire flavor, the brewers smoked 600 pounds of white wheat over an apple wood fire, that also adds a crisp nuttiness to the mix. Recommended.
Columbia River Brewing: Nyctophobia IPA: It's official. We are to refer to these beers as Cascade Dark Ales, and not Dark IPA. 'Nuff said. I like to call these "candy bar" beers, due to their chewy, chocolate flavor profile. Nyctophobia (fear of the dark) also has plenty of hop heft. Reminded me of an easy drinking porter.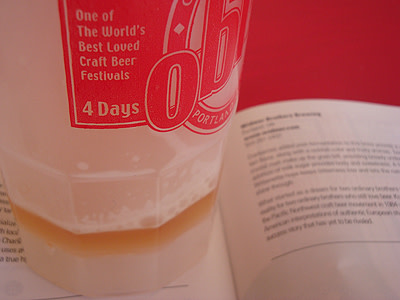 Lagunitas Brewing: Little Sumpin' Wild
If you like your beers on the aggressive side, then you'll go ape for LSW. The combo of wheat, Belgian yeast and heavy hops make this a pretty belligerent brew, but in this case conflict leads to something glorious. I'd like another, please.
Boneyard Beer: Girl Beer
Could be that my palate was pulverized by this point, but I found this fruit beer from a new Bend brewery to be rather weak tea. Subtle to the point of nonexistence.
I'll be hitting the festival again tomorrow, as will various members of the Bar Pilot "street team," so we'll keep you posted. Chandler out.