Happy Hour
Happy Hour: Oswego Grill
A confluence of comfort and style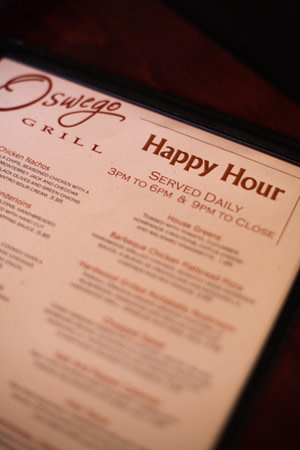 Growing up around these parts has taught me two crucial survival skills: (1) Never expect (or accept) an average meal and (2) not drinking local is a sin against the Portland brewery gods. If I can get through a happy hour with at least one of these skills, I am often still pleased—and such is the case with Oswego Grill, a posh pit stop south of Portland just off I-5 (3-6 pm & 9 pm-close).
Walking in the door, the old-world, dark wood appointments and obsessively polished bar and tables made my jeans and bright yellow top stick out like a tie-dye T-shirt among the business suits, pearls, and sweater sets, but the staff didn't think twice about this fashion faux pas and seated us promptly with non-phony smiles. (No walking in and plopping down at any table here, even in the bar.)
At first glance the down-home menu was surprising for such a swanky watering hole. With comfort food options and fresh summery drinks, I was definitely put off guard at this oxymoron, they were calling happy hour. My first stab at the menu was the mac & cheese, and at $2.95, it was a steal. The baked dish had a shocking spicy pepper kick yet maintained a creamy, buttery, thick sauce making it more of a "grown-up mac & cheese" that I instantly devoured despite my tendency to want to hold my fork with my pinky extended high in the air.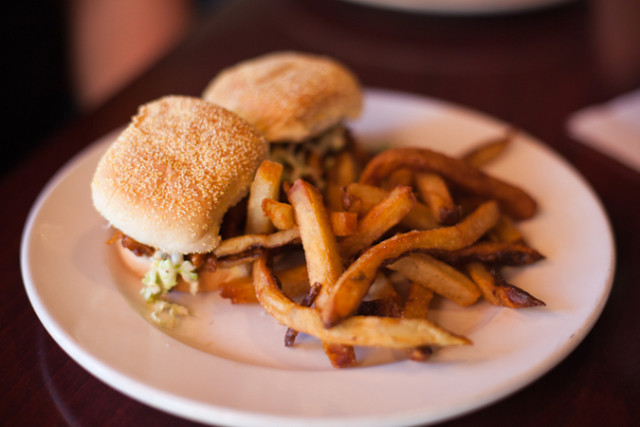 My friends went the more seasonal bbq route ordering the Pork Tenderloin Sliders ($2.95, and they come with fries!) and mozzarella wedges ($2.95), which were deftly described by my companions as "a tangy wonderland of summer." Looking around I saw nothing but joy and gusto on the faces of office drones lustily shoveling down elegantly prepared chicken nachos ($3.95), chicken and cheese quesadillas ($2.95), and fish tacos ($2.95). The menu, a cunning blend of comfort food with a splash of gourmet, definitely fit my "I'm pretending to be a suit and tie but honestly I couldn't care less" budget.
While the homey food passed my first survival skill, the brew selection fell short. Pints of beer are a $1 off during Happy Hour, but don't get your hopes up for a wide selection of local tastes. They offer Widmer Hefeweizen and a Ninkasi IPA on rotating tap, but with a hometown handle like Oswego Grill, I would have expected a stronger regional selection.
Where the grill lacks in locals, the cocktails shined forth in the dark, mood-lit bar. The consensus favorites of the afternoon were the Blueberry Drop ($7.50) and the passion fruit mojito ($8), both with made fresh fruit and a judicious layering of lemon. Sadly, the Very Berry Lemonade ($6), a seemingly can't-miss summer refresher, was sorely lacking in the bright-flavor department. My advice? Stick to the fresh-fruit house-made cocktails for a bracing beverage.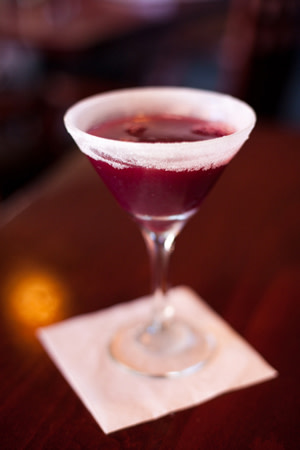 Even though I felt like "Annie Get Your Gun" among financial execs and proper ladies, the Oswego Grill is a great happy hour for when you're in the mood to spoil yourself with comfort food gussied up with stylish accents. I'm in no danger of becoming a regular—the bill can add up fairly quickly and I'd have to pilfer my grandmother's broach and a cardigan—but it's a solid and serviceable happy hour nonetheless.