FOOD AND DRINK EVENTS
Portland Pickle Throwdown
The first annual Pickle Throwdown will showcase the top salty and sweet preserves "put away" by Portland's top restaurants on July 23rd.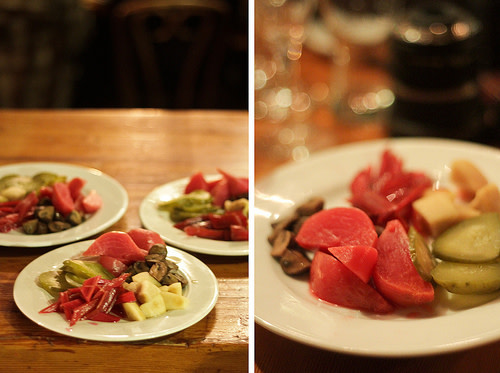 Come down and find yourself in a pickle this month! Kenny & Zuke's SandwichWorks, the Northwest Portland location of the lauded downtown deli, is throwing a summer block party with a touch of brine. The first annual Pickle Throwdown will take over the NW Thurman restaurant with creative cured concoctions from some truly choice chefs.
You'll be able to sample pickles from Biwa, Grüner, Lincoln, Metrovino, Ned Ludd, Olympic Provisions, Picklopolis, Toro Bravo, Garden State, and Kenny & Zuke's, and the offerings won't just be of the cucumber persuasion. Contenders will be able to offer up their unique take on everything pickled in four categories: Sweet Pickles, Classic Cucumber, Not Involving a Cucumber, and Portland Weird. Maple bacon pickles, anyone?
Five bucks covers your festival ticket, with all of the proceeds benefiting the Oregon Food Bank's efforts to feed every Oregonian in need. Entries will be picked apart by a panel of "celebrity" judges (including Storm Large and yours truly) who, along with festival attendees and their People's Choice Award, will crown the pickle champion in each category. BBQ and microbrews will be available for purchase in case forty pickles aren't enough to fill you up.
The Portland Pickle Throwdown, Saturday, July 23, from 12 noon to 6 pm.
Kenny & Zuke's SandwichWorks 2376 NW Thurman St. 503-954-1737