Market Watch
Power Pop! (Puddin' and Otherwise)
Frozen treats for young and old – including those with adventurous palates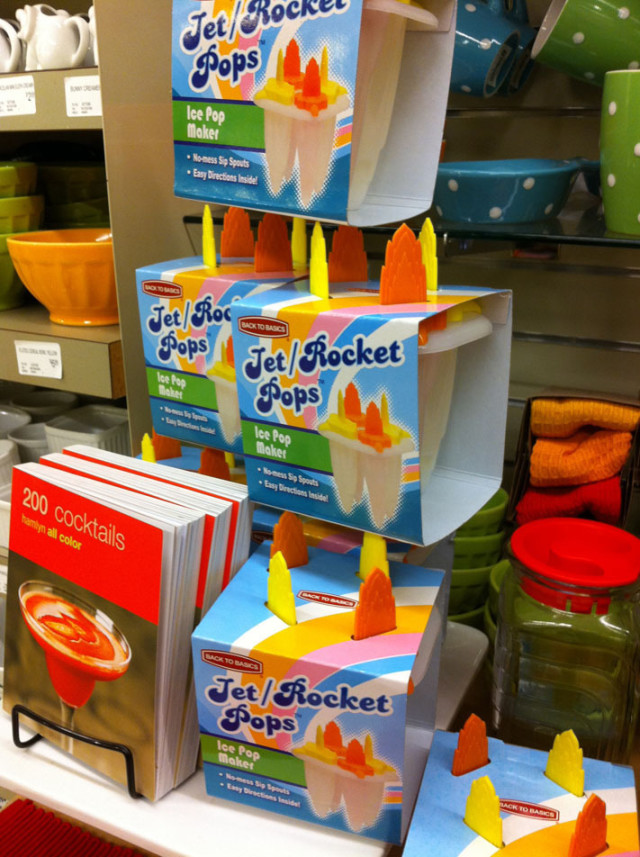 What to do with that flat of strawberries so fragile and fresh they practically cook on the way home from the farmers' market? Freeze them up into popsicles. Same goes for the other ultra-fresh fruits we're getting these days, namely peaches and cherries. Freeze, baby, freeze!
Of course, there are also creamy-licious frozen pops to be made, including some that contain that year-round favorite, chocolate. We'll get to that too. But first, get your blender whirring and clear some space in your freezer.
New York Times food writer Mark Bittman has come up with a bunch of creative and easy ideas for sweet frozen fruit pop treats that take just a spin in the blender to prepare. Well, that is, unless they're cherries, which do have to be pitted unless you want to break your blender.
Here are three of Bittman's fruity mixes to freeze into crowd-pleasing yet far from good-humorish pops:
: Purée 2 cups pitted cherries, 3 tablespoons sugar, 2 teaspoons lemon juice, 2 teaspoons vanilla and water as needed to get the machine going.
: Purée 2 cups hulled and quartered strawberries, 3 tablespoons sugar, 2 teaspoons lemon juice, 2 tablespoons basil leaves and water as needed.
: Purée 2 cups chopped fresh peaches (peeled or not), 3 tablespoons sugar, 2 teaspoons lemon juice, 1/2 inch fresh ginger and water as needed.
And on the creamy side, three more Bittman recipes using year-round flavor favorites like chocolate and peanut butter:
: Whisk together 2/3 cup whole milk, 1 1/3 cups orange juice, 3 tablespoons sugar and 1/2 teaspoon vanilla until the sugar dissolves.
: Cook 2 cups milk, 6 ounces chopped bittersweet chocolate, 3 tablespoons sugar, 1 tablespoon cocoa powder and 1/4 teaspoon chili powder over medium-low heat, stirring, until smooth. Stir in 1/2 teaspoon vanilla. Cool slightly before freezing.
: Purée 2 medium bananas, 1 cup milk, 1/4 cup sugar, 1/4 cup peanut butter and 1/2 teaspoon vanilla. Sprinkle 1 teaspoon chopped roasted peanuts into each Popsicle mold before adding banana mixture.
Strictly for the over-21 crowd, check out Bittman's recipes for frozen boozy treats (for instance, Mojito or Fennel Pernod Popsicles) at his link
For a different flavor of decadence – chocolate, that is, so all ages admitted – Gisene Bullock-Prado provides a luscious egg-yolk-and-cream-filled pudding pop recipe. Unlike the quick blender beauties above, this one takes some time and wrist action to whisk the deliciousness together, but promises to be worth it. Here's the link and the recipe.
Gisene Bullock-Prado's Bittersweet Chocolate Pudding Pops
Ingredients
½ cup (120 milliliters) agave nectar
½ cup (40 grams) dark cocoa powder
1 cup (240 milliliters) heavy cream
½ teaspoon (3 grams) salt 
1 cup (240 milliliters) coffee (brewed)
1 tablespoon (8 grams) cornstarch
3 egg yolks
1 tablespoon (15 milliliters) vanilla extract
Directions
In a medium saucepan over medium heat, whisk together the agave nectar, cocoa powder, heavy cream, and salt until the mixture comes to a simmer. Remove from the heat.
In a separate bowl, whisk together the coffee and cornstarch. While whisking constantly (especially if the coffee is still warm), add the egg yolks one at a time and then add the vanilla extract.
Return the pan containing the cocoa mixture to the stove. Pour the egg mixture into the cocoa mixture, whisking constantly over medium heat. Clip on a candy thermometer and whisk whisk whisk. In all likelihood, the temperature has already exceeded 160 degrees Fahrenheit (71 degrees Celsius), so you're safe, bacteria-wise. Now keep whisking for about 5 minutes, until the pudding thickens and the temperature reaches 200 degrees Fahrenheit (93 degrees Celsius) to 210 degrees Fahrenheit (100 degrees Celsius).
Pour the pudding into 7 popsicle molds and freeze overnight for a luscious, chocolaty summertime treat.