FOOD AND DRINK EVENTS
Slideshow: Kenny and Zuke's Pickle Throwdown
Ten local restaurants pickled everything from cucumbers and cauliflower to hot dogs and duck tongues for one wild event.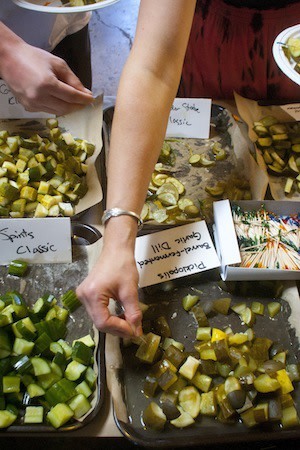 Over 500 people lined up for a veritable pickle buffet at the Kenny & Zuke's First Annual Pickle Throwdown, raising over $2500 for the Oregon Food Bank. The event (centered around K&Z's Northwest Portland SandwichWorks location) became a summer block party, with half the NW Thurman blocked off from traffic and loaded picnic tables supporting plates loaded with pickles, pulled pork and brisket sandwiches, Cool Moon ice cream, and cold beer.
Pickled offerings from Biwa, Grüner, Sunshine Tavern, Metrovino, Ned Ludd, Olympic Provisions, Spints Alehouse, Picklopolis, Garden State, and Kenny & Zuke's ranged from the classic to the exotic (pickled duck tongue anyone?), and nibblers had a chance to vote for their favorites. A panel of judges selected their favorites as well, and here are the picks of the barrel:
People's Choice:
Classic Cucumber: Grüner's Classic Dill Pickles
Sweet Pickles: Grüner's Bread and Butter Pickles
No Cucumber Pickles: Olympic Provision's Pickled Pepper (pickled roasted red bell peppers)
Portland Weird: Kenny and Zuke's Koolickles (yes, that's cucumbers pickled in Kool-aid!)
Judge's Favorites:
Classic Cucumbers: Biwa's Classic Cucumber
Sweet Pickles: Olympic Provisions' Bread and Butter Pickle
No Cucumber Pickles: A tie between Olympic Provisions' Pickled Pepper & Ned Ludd's Cauliflower Pickles
Portland Weird: Garden State's Cuttlefish with Caponata
Didn't get a chance to try the best of the best? Don't worry, the event will be back (and bigger!) next year, with a new location, new participants, and even weirder weird pickles. See you then!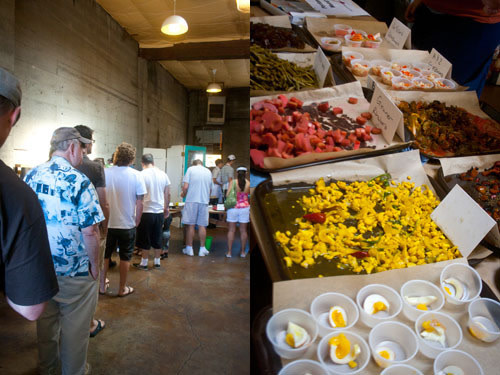 Worth the wait: The line of brine enthusiasts wound down the block at the event's busiest hour, but patient pickle patrons were rewarded with more pickles than you could shake a cucumber at, including pickled eggs, pickled rhubarb, and pickled cauliflower.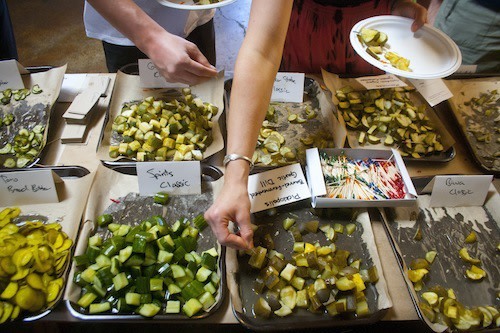 Keep it Classic: Some of the most popular pickles were the classic cukes, with dill recipes from Grandma and half-sour pickles that serve up a complex kick.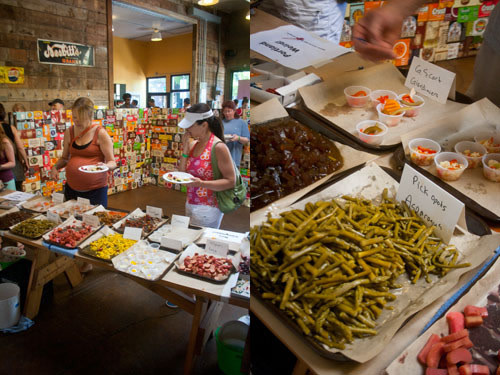 Rainbow Pickles: Kenny & Zuke's colorful drink-label decor provided a bright background for technicolor watermelon rind pickles and pickled asparagus.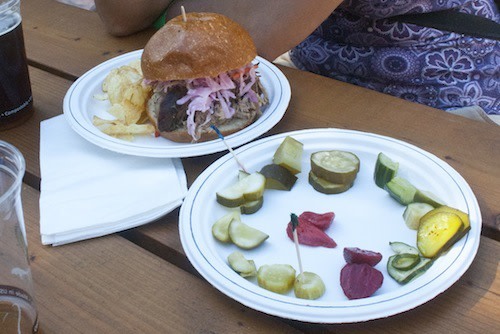 Plate of Pickles: BBQ and Pickles go so well together, but at this event you needed a whole second plate for the condiments! The tricky part about judging the competition was keeping all the pickles in order – a lot of classic cucumbers looked identical.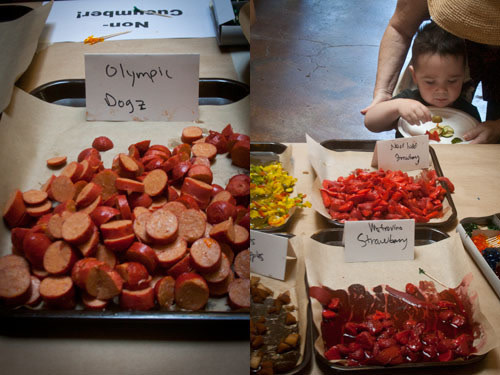 Gone to the Dogs: Sure, you saw the People's Choice and Judges' Favorites… but my dog's favorite? Olympic Provisions' pickled hot dogs, hands down. The two-legged little ones loved the pickled strawberries, and had several to choose from.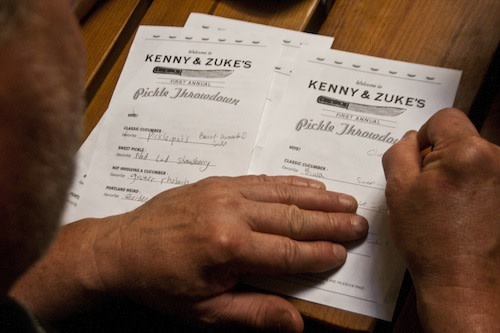 Tally Up!: The judging cards were tallied by hand (by Kenny & Zuke's Ken Gordon) to avoid any recounts. You know how voting can be…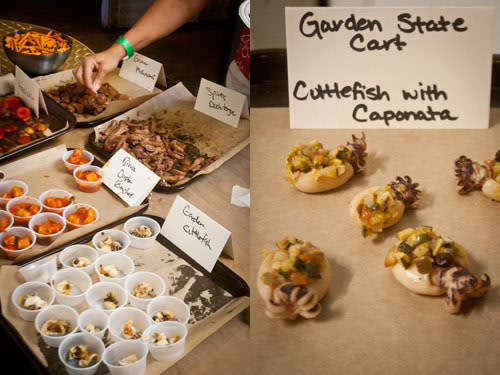 Keep Portland Pickled: The Portland Weird category included Koolickles (cukes pickled in Kool-Aid), pickled duck tongues, oyster kimchee, and some truly exotic-looking cuttlefish with sweet and sour pickled caponata.
Kenny & Zuke's SandwichWorks 2376 NW Thurman St. 503-954-1737_