FOODIE FREEBIES
Stuff Your Face…and your Bookshelf!
Snag a free copy of the book on the tip of everyone's tongue, Jen Stevenson's 100 Best Places to Stuff Your Faces.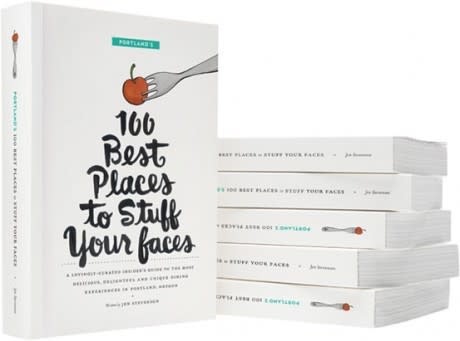 We here at Portland Monthly's Eat Beat like to think we know a thing or two about restaurant recommendations. It's hard to tell people you write about food for a living without spending the next half hour listing off your favorite 15 restaurants, happy hours, and specialty stores to tourists and Portlanders alike. Local writer Jen Stevenson has done the smart thing: she put down the wheres and whys of her 100 favorite Portland restaurants in a travel-sized guidebook, no doubt saving herself countless hours of spontaneous recommendations in the process.
The entertaining and reliable Portland's 100 Best Places to Stuff Your Faces should eventually find its way into every car glove compartment, bike basket, and daypack for those moments when you're so hungry you can't remember your own name, much less the name of that hot new restaurant you read about last week. Jen Stevenson has proved her golden fork-and-knife credentials over and over on her blog Under the Table With Jen, and won't steer you wrong in this 217-page guidebook, whether you're looking for pizza or a pierogi, pig's blood chocolate or a croque-madame.
Each restaurant recommendation comes with a page of favorite menu items, decor descriptions, and insider tips from Stevenson herself. The book is also packed with fold-out maps, lists, and travel tips for the gourmand from out-of-town. I like to imagine Stevenson carries around a sack of these cute little books wherever she goes, so whenever anyone stops her mid-sip at Happy Hour, she can hand over the guidebook and keep on sipping. Hmmm… maybe I should write a book.
Portland's 100 Best Places to Stuff Your Faces is now available—for just $14.95—at New Seasons Markets, Powell's on Hawthorne, both Olympic Provisions locations, and at bestplacestostuffyourfaces.com, but you can snag your own copy for free. Here's how: Shoot me an email at [email protected] with "Stuff Your Face" in the headline. You've got until 5 pm on Thursday, July 21, when I'll pick one winner at random to receive a shiny new copy of this all-in-one foodie resource. Good luck and happy eating!