FOOD AND DRINK EVENTS
9 Oregon Craft Beer Month Events
We've culled through over 300 beer-centric events to bring you our top picks for maximum microbrew merrymaking.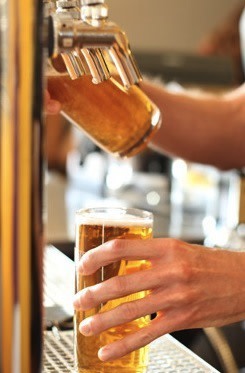 Celebrating Craft Beer Month in Oregon may be akin to observing Take A Taxi Day in New York or Sweet Tea Week in North Carolina, but we're not the kind of people to turn down a reason to party. Sure, microbrews have become the norm in this corner of the country, but every July we are given a few more reasons to raise a glass. This year, over 300 events are planned throughout the state to recognize the significance of artisan brewing in Oregon, and we've got your Beer-tastic Cheat Sheet so you can make the most of the month's hopped up happenings.
To check out the full list of beer-centric parties, tours, dinners, and gatherings, head over to the Craft Beer Month website. Excited about an event we didn't mention? Feel free to give your top picks a shout out in the comments. Happy sipping, and be sure to buy your Designated Drivers some tasty nosh – they deserve it.
1. The Cans Fest – Saturday, July 9th Noon to 10 pm, FREE
Reign in the "can revolution" at The Guild Public House with this all-day celebration of canned craft beers. The Cans Fest will introduce Portland beer lovers to canned craft beers from the Northwest and beyond, and most of the beers sampled will be available for purchase to go.The festival is free to enter, tasting mugs are $5 and each 4 ounce pours are $1. Proceeds from the event will benefit Ride On Portland.
The Guild Public House, 1101 E. Burnside 503-233-1743
2. Migration Pig Pickin' Party Saturday, July 16 3 pm
Join Migration Brewing for the first annual Pig Pickin' Party at their Northeast Portland brewpub. Think beer-infused-BBQ from "Robb's Really Good Food" and corn muffins made with the brewery's spent grain. Beer pairings from Migration, New Old Lompoc, and Upright Brewing will wash it all down to the tunes of an amazing lineup of live bluegrass music. BBQ, beer, and bluegrass? Sounds like a party to me.
Migration Brewing, 2828 N.E. Glisan St. 503-206-5221
3. ZOOLALA 2011 Saturday, July 16, 7 to 10 pm, $100
This annual benefit for the Oregon Zoo's continuing conservation efforts brings together top restaurants, bars, and breweries for a night of tasty bites, brews, and face-time with the zoo's wildest residents. This year's event will include carnival and casino games, plenty of monkey-business, and elephantine delights. Featuring treats from Bamboo Sushi, Beaker and Flask, EAT: An Oyster Bar, Laurelhurst Market, Lompoc Brewing Co., Ned Ludd, Oregon Ice Works, Produce Row, Prost!, Toro Bravo, Widmer Brothers Brewing Co. and more, this one night event is sure to be memorable.
Oregon Zoo, 4001 S.W. Canyon Rd; 503-220-2492
4. Puckerfest at Belmont Station, July 18 to 24
Celebrating sour, wild, and "funky" brews, this scrappy festival is entering its fifth year of shaking up expectations in Beervana. Beer lovers can look forward to a rotating cast of 10 to 12 unique beers on tap daily, along with numerous "Meet the Brewer" nights where brewers from around the region share their stories and some extra special beers. Think Logsdon's Farmhouse Ales, Double Mountain, Russian River, Flat Tail, Block 15, Big Horse, Upright Brewing, Oakshire, Jolly Pumpkin, The Bruery, BFM, Cascade, Deschutes, New Belgium, and Mikkeller, just to name a few. Pucker up!
Belmont Station, 4500 SE Stark St. 503-232-8538
5. A Picnic for Forest Park Sunday, July 24, noon to 4 pm, $10-$17
This benefit for Forest Park is bringing together BBQ bites from Scott Ketterman of Simpatica, Patrick Fleming of Boke Bowl, and Jason French of Ned Ludd along with brews from Widmer Brothers Brewing, Henry Weinhard's, and Ninkasi for an afternoon of family-friendly fun. Featuring face painting, magic shows, and a petting zoo for the wee ones, this weekend picnic will be one to remember.
World Forestry Center Central Plaza, 4033 SW Canyon Rd
6. Fred Eckhardt's 20th Annual Beer and Cheese Tasting Tuesday, July 26, 5 pm, $30
Fred Eckhardt, author of "The Essentials of Beer Style," will lead a multi-course beer and cheese pairing at the Rogue Pub in the Pearl District with his characteristic humor and know-how. Oregon hand-crafted beers go ridiculously well with hand-crafted cheeses, so put them both in your hands and get happy.
Rogue Public House & Distillery 1339 N.W. Flanders St. 503-222-5910
7. Brewers Brunch and Parade Thursday, July 28, 10 am to noon, $40
Want to kick off the Brewer's Festival in true PDX style? Join 650 fellow brewers and beer lovers at the annual Brewers Brunch, hosted by McMenamins at the Crystal Ballroom. Tickets include brunch, two pints of McMenamins beer, a souvenir t-shirt, an Oregon Brewers Festival souvenir mug and four tasting tokens. Following the brunch, join the Transcendental Marching Band and the beer-lovin' group as they march down Portland streets to the opening ceremonies of OBF at Tom McCall Waterfront Park. Ticket info here.
McMenamins Crystal Ballroom, 1332 W. Burnside St., 503-225-0047
8. 24th Annual Oregon Brewers Festival July 29-31; $6 for a mug, $1 for each tasting token.
The big grandaddy of Oregon Craft Beer Month, the Oregon Brewers Festival is the culmination of all things summer: beer, food, sun, music, and friends on the Willamette river waterfront. Featuring over 80 craft beers, 6 restaurants, tables featuring info from hop growers, homebrewers, breweriana collectors, and national beer writers, live music, and enough beer to make the rest of the country thoroughly jealous, OBF should not be missed.
Tom McCall Waterfront Park; 503-778-5917
9. Belmont Station Fringefest Saturday, July 30, noon to 6
If you're the kind of craft beer lover that thinks most "mega" microbrews are, in the words of Portlandia, so over, this microfest is for you. While the rest of the city is sitting in the beer garden on the waterfront, head to Belmont Station for the celebration of the little guys – the Oregon breweries not at the Oregon Beer Festival – and revel in your discerning connoisseurship.
Belmont Station, 4500 S.E. Stark St., Portland; 503-232-8538