DATE NIGHT CONFIDENTIAL
Saké Rendezvous
Grab your sweetie and scoot up to NE Alberta for a night of sushi and saké that will leave you satisfied in more ways than one.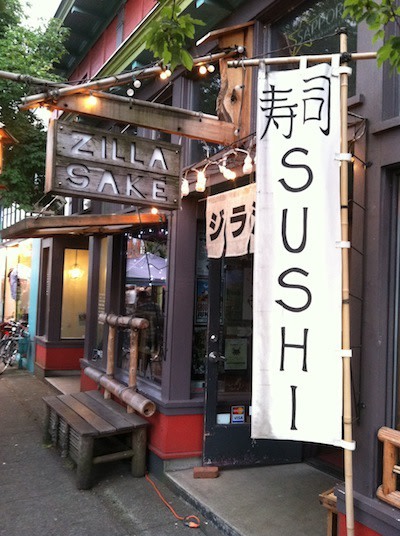 Fresh out of ideas for date night? Eat Beat's got your back – we're tracking down and sharing some tried and tested bars and restaurants guaranteed to get the night off to a sexy start. Our patented Date Night Confidential rating system will help you find the perfect spot to snog your sweetie over dinner.
Next up, Northeast Alberta's sweet little saké and sushi bar, Zilla Saké House. This bustling yet intimate spot has curb appeal that extends to the hip interior, and the kitchen dishes up comforting flavors and a sake list so long it'll surely impress your arm candy. Start off your meal with Zilla's take on traditional sushi accoutrement bumped up to crave status – the Organic Miso Deluxe with rice, tofu, ika (dried squid jerky), green onion and sesame seeds is more than worth its $4 price tag, and the Hijiki seaweed salad with is a savory palate bomb of seaweed, edamame, carrots and daikon with a spicy kick ($5). Order a few rolls and you're looking at dinner for two for well under $50.
The bar serves up a few specialty cocktails like the Sumolicious (whiskey, tamarind juice, and ginger ale, just $4 at happy hour), but the real drink deal at Zilla is the saké. With options spanning Daiginjo saké (highest quality) to Ginjo, sparkling to extra dry, and local selections from Oregon, you're bound to find the perfect sip pre-smoochin'. Kampai!
The Date Night Confidential Low-down
Noise Level: The small restaurant can get pretty noisy on a busy night, and when we visited the music had a decidedly sing-a-long flavor (think Queen and Journey). My date and I are the kind of people who enjoy a little dorky groovin', but it might not be the place for a solemn exchange of romantic devotion.
Lighting: Quirky lanterns provide a bit of light, but saké needs to be stored in low light to stay extra delicious. This means the r*estaurant's shadowy corners provide the cover* for seductive glances or some full-on mouth-to-mouth.
Physical Proximity Potential: While seats at the sushi bar are at a premium, there are plenty of booths lining the restaurant that allow you to scoot real close. Feel free to plan a double (or triple) date – Zilla gladly accepts reservations for parties of any size, and the bigger booths seat six comfortably.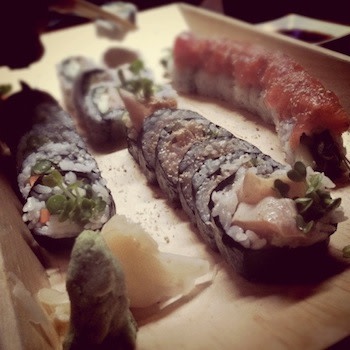 Privacy: Zilla's booths have very high backs, effectively creating small rooms to get your romance on. For the see-and-be-seen couple, there are a few tables lining the sidewalk on Alberta where you can show off your impressive saké selection. On a busy night, service can be a bit slow, leaving you plenty of time to get to know each other.
Shareability: Sushi and saké are meant to be shared, so order up! Our favorite rolls were the Nishi (ponzu albacore, green onion, kaiware, and real wasabi, $8.50), the crunchy, fresh Veggie Roll (cucumber, avocado, asparagus, ginger carrots, and kaiware sprouts, $5.50),and the zingy Zilla (cucumber, asparagus, and kaiware topped with spicy tuna). All sashimi selections come with real wasabi, and options include tasty scallop and surf clam.
Overall Date Night Score: 4/5
Zilla Saké House 1806 NE Alberta St. 503-288-8372
Hours: Monday through Saturday 5pm to 12am; Sunday 5pm to 10pm
Happy Hour: Monday through Friday 5 pm to 7 pm