BEST OF PDX
5 Nontraditional Breakfasts
Your cheat sheet for the top spots to shake up your breakfast routine, packed with international flavors and unexpected twists on the classics.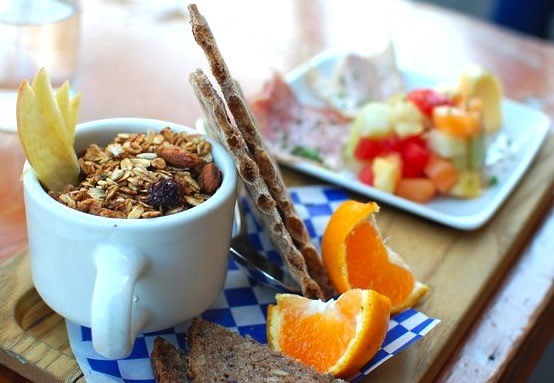 It's no secret that Portland loves breakfast, but the offerings at the majority of our line-out-the-door restaurants can get pretty repetitive. We are demanding diners, and no longer will we be impressed by a mere waffle topped with praline bacon (no matter how sublime said praline bacon can be).
Sometimes we need to shake it up, and while a few of the names on this list are old favorites, it's worth it to recognize the efforts of those restaurants that break out of the breakfast mold.
Kesone Cafe 2620 Powell Blvd; 503-236-8528
You usually like: A filling-packed omelet
Try this: It may not be traditional Thai, but there's something so wrong it's right about a Pad Thai Omelette (Pad Thai noodles mixed with scrambled eggs, curry potatoes, bell peppers, Thai sausage, topped with pepper jack). I'm pretty sure plenty of people have "invented" this dish with their take-out leftovers, but Kesone's take is the ultimate morning-after meal—you can even order it "Thai volcano hot" to chase away any lingering reminders of late night revelry.
You usually like: French toast
Try this: Mung Bean Curd Pain Perdu, a Thai take on New Orleans-style French toast topped with mango coconut milk compote, because who hasn't wanted to turn that mango and sticky rice dessert into a meal you can eat any time of day?
Broder 2508 Southeast Clinton Street; 503-736-3333
You usually like: Continental breakfast buffets
Try this: Broder's Swedish Breakfast Bord is the ultimate treat for diners that love to nibble and pick their way through tons of flavors in one meal. With both sweet and savory treats packed into an adorable wooden tray, this is truly morning paradise for the indecisive. Look forward to a plentiful array of cured meats, smoked trout, rye crisps, hard cheese, yogurt and fruit granola, fresh fruit, and brown bread with plenty of delicious jams. As an extra treat—because everyone deserves breakfast dessert—snag a baked grapefruit, a delicious and surprisingly decadent broiled grapefruit topped with an addictive crumble of brown sugar, walnuts, and spices.
Autentica 5507 NE 30th Ave; 503-287-7555
You usually like: Huevos Rancheros (one of the only non-american breakfasts that pops up on many "traditional" breakfast menus)
Try this: While Autentica's take on the familiar huevos rancheros is sublime, feel free to venture deeper into the traditional Mexican brunch menu (the emphasis on corn make this a great spot for gluten free diners). Favorites include the comforting arroz con huevo frito (two fried eggs with tomato, rice, and spicy avocado puree), traditional menudo, the fruta con miel de palo, a fresh fruit salad with honey and spicy red chile pepper, or the quezadilla de frijol, a house made corn masa and black bean quesadilla stuffed with oaxacan cheese and topped with chunky avocado salsa.
Tasty & Sons 3808 N. Williams, Suite C; 503-621-1400
You usually like: Anything tasty and adventurous.
Try this: If anyone's the head honcho of bringing international breakfast to Portland, it's John Gorham. His flavor-packed dishes made Shakshuka—the Israeli red pepper and tomato stew with baked eggs and merguez sausage-a household word in Portland, the Burmese Red Pork Stew with rice eggs is the stuff savory breakfast dreams are made of, and John's Breakfast—a re-imagining of Korean favorite Bibimbap with house-made kimchi, sauteed vegetables, brown rice and egg—proves that an international culinary tour can make a truly great morning meal.
Slappy Cakes 4246 SE Belmont St # 3; 503-477-4805
You usually like: Oatmeal
Try this: Yes, it's Slappy Cakes, and yes, it's oh-so-fun to make your own pancakes at your table, but if you can manage to crack open the served-all-day Breakfast menu at this Belmont spot, you'll find some surprisingly international flavors. Try the Congee, a traditional Asian rice porridge, topped with braised pork and scallions with housemade chili paste (and addictive fried brioche dumplings). Other international offerings include the Chicken Tinga, a braised chicken stew with tomatoes, peppers, and onions served on sopes with two fried eggs.
Of course, this list is just the beginning. Where's your favorite spot for non-traditional brekkie? Are you a Dim Dum devotee? A suburb-trekking ethnic food sojourner? Continue the list in the comments below!