INTERVIEW
5 Questions with Justin Woodward, Castagna's new Leading Man
From sous chef to Top Gun at one of the most talked about restaurants in Portland, Justin Woodward is movin' on up.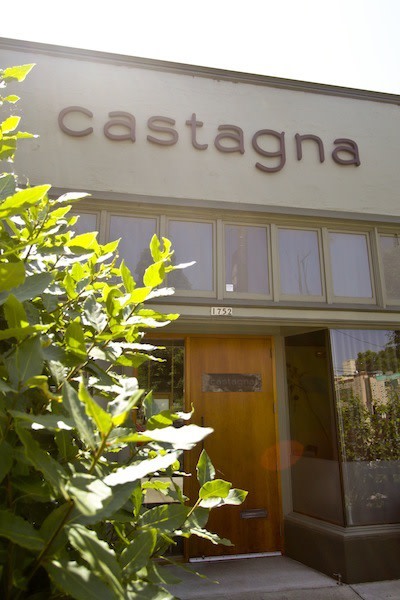 When I arrived at Cafe Castagna for my interview with Castagna's new chef Justin Woodward, he was busy outside with Sheldon Laeity of Your Kitchen Garden receiving his first shipment of tomatoes. Farm-fresh ingredients have and always will come first for Woodward, even when the spotlight is knocking at his door.
Woodward has been Matt Lightner's sous chef at Castagna since both men moved to Portland two years ago, and has had a quiet hand in transforming the former neighborhood Italian spot into Portland's epicenter of Modern Cuisine. Now that Lightner has made the move to New York City to open his new restaurant, Atera, his former sous chef is stepping into some pretty large shoes. I sat down with Woodward to find out what diners can expect from Castagna's new commander.
1. So, what are you going to do with those tomatoes?
It's a very small shipment, but we're happy to have them. We've got Golden zebras—they're my favorite. I'm thinking about peeling them down, marinating them, and serving them with a dried shiitake glass. I'll make a tea with dried shiitakes and freeze it into a thin layer of ice. We'll put that on top of the tomatoes and when you take a bite you'll get a crunchy, cold, refreshing bite. The dried shiitakes have so much umami, it mimics the flavor of the tomato. Guests won't really pick up on the shiitake, they'll just taste the most amazing tomato they've ever had.
For me, it's all about the ingredients. It's become pretty second nature when I get a delivery from a farmer, I can pretty easily decide which techniques I'm going to apply. I have so many techniques at my disposal – New School tricks and Old School methods – that I'll let the farmer's product be my guide.
2. How has Castagna changed since you and Matt started together two years ago? How do you see it changing now?
It's changed dramatically since we first arrived. It used to be rustic Italian food, and now its completely different, and we're serving creative, modern food that you'd find in Denmark, Spain, or New York City. But I don't see a lot changing now, I'll just be working as I have been for the past few years. With Matt, I was still coming up with a lot of ideas for dishes. I'd show them an idea for a dish, we'd talk about it and build the dish that we'd put on the menu. I'm just going to continue doing that, adding more and more of my own dishes as the seasons change, and continue the conversation with the rest of the kitchen and find out what they're interesting in playing with.
3. You've worked at a few of the restaurants heralded for starting the Modern Cuisine movement. Which still influence your cooking at Castagna?
Before Castagna I spent some time staging at Noma (Copenhagen, Denmark), Corton, Eleven Madison Park, and wd-50 (NYC), and a few places in California where I worked under chefs using very traditional French techniques. Those techniques still come into play in my cooking—the first five years of my career I was focused on very traditional techniques. My first mentor was a Thomas Keller protégée, and its impossible to abandon that training while going forward, even when we're working on such modern food.
4. A few other chefs in Portland are working with Modern Cuisine techniques, but there hasn't been much communication between them. Would you be open to creating a dialogue between like-minded kitchens?
I would love to talk to a number of chefs like Greg Denton of Metrovino about modern cuisine. We don't all have to be working on the same techniques because there is a huge spectrum of "Modern Cuisine," but I'd love to share resources and start supporting a community of chefs that are excited about cooking like this. I think in Portland is the perfect place to be doing what we're doing. It's such a creative place and there is definitely a community of forward-thinking diners that are embracing Modern Cuisine, we just need to capture their attention.
5. What would you say to a diner that might be intimidated by all the talk of Castagna's "difference"?
I believe dining is all fun—I will go to a restaurant because I want to have a good time. Food at Castagna is an adventure, it's visual…but it's also just fun. I'd liken it to art and music… like jazz, until you really listen to it and experience it you can't really appreciate it. A lot of how we think about presentation and preparation at Castagna is very Japanese, (they have specific plate that they only use in the fall because it evokes a certain emotion in you). The colors, the textures are all very thought out to evoke a response. The food is very sensual, but I don't want it to be precious or pretentious. Come in and fine out what we're doing here.
Castagna 1752 Southeast Hawthorne Boulevard; (503) 231-7373
Dinner Wednesday through Saturday starting at 5:30, reservations recommended.