INTERVIEW
5 Questions with Thomas Boyce, Bluehour's Big Catch
Thomas Boyce left fifteen years at one of LA's biggest restaurants to start a new culinary adventure in Portland, and we've got the inside scoop.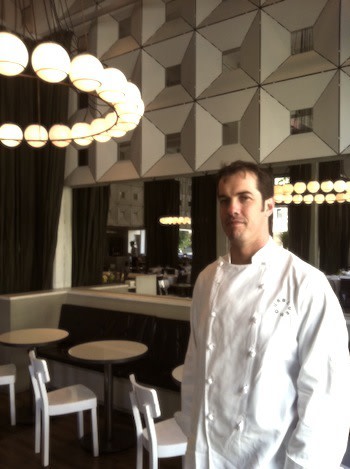 Thomas Boyce made quite the stir among culinary watchdogs when he arrived in Portland a year ago. With an impressive resume anchored by fifteen years at Wolfgang Puck's flagship restaurant Spago, Boyce came to the Northwest to open his own restaurant with wife and James Beard Award-winning author Kim Boyce. Until the Boyce & Boyce empire launches into fruition, he'll be getting the lay of the land by heading the kitchen at the posh Pearl District eatery Bluehour.
Boyce is set to transform the menu at Bruce Carey's Pearl District eatery, but he's not jumping into things too quickly. In his first week at Bluehour, Boyce is focusing on getting to know his kitchen team and building a larder that will allow him to incorporate a wide array of world flavors into his culinary creations. We're all used to the term "market-driven," but Boyce is taking that one step further, sourcing from both farmers' markets and ethnic markets throughout the Portland area.
I sat down with the handsome and humble Boyce to see how he's settling in to his new kitchen, his new city, and his impressive international pantry.
1. What's been that hardest thing about moving your career a thousand miles north?
The hardest part of starting in a kitchen in a new place is figuring out the markets, learning the area, and finding out who the best purveyors are. In LA, if I wanted Koren or Japanese or any other unique ingredients, I'd pass three Asian markets on my way to work. Here, I have to go to Beaverton or way out east to find what I need. I really look forward to building the necessary relationships with farmers, people who can grow specialty items just for the restaurant. I'm still very new to the farmers' market scene.
2. Tell us a bit about your approach to Bluehour's new menu. Which international cuisines are your big inspirations?
The menu is going to change often, but it'll be anchored by seasonally-driven Italian and French techniques and flavors accented by Japanese, Korean, and Indian cuisine. I'm working on a tomato and watermelon salad with goat ricotta and an octopus terrine with some Korean flavors. Right now the menu is just getting started. I'm beginning slowly, trying out a few things to get a feel for what our diners want. We have a lot of new cooks, so we're still in that getting-to-know-you phase, and I'm working on building my pantry of ingredients and getting started playing with my food.
3. You spent 15 years at Spago—a restaurant that really started "fusion cuisine" with its extremely international influences. How did that change you as a chef?
The quantity of international flavors was the best and most difficult thing about Spago. The menu was a combination of everything. It's hard to explain what "California Cuisine" means… to me it means something close to what "Portland Food" means— we're cooking food based on what's seasonal, what's available, what's best at the market with the techniques we're passionate about. But my experience at Spago has really forced me to make a conscious effort to narrow down which cuisines I draw from so the menu isn't too busy.
4. What do you see as the major differences between the Los Angeles and Portland restaurant scenes?
Los Angeles is a much more competitive city. There are always tons of restaurants opening and closing, that the investment required necessitates more aggressive competition. No one in LA can open a restaurant for two hundred thousand dollars, but here in Portland that seems to happen a few times a month. Every other restaurant that opens in LA is a multi-million dollar project, but that doesn't necessarily result in quality. A quality restaurant depends on the creativity and commitment of the chef and the team behind the restaurant.
5. We're used to seeing some of our great culinary talent ship out to LA or NYC, so it's refreshing to see big names choose Portland as their "step up". What brought you here, and what will make you stay?
Portland's food scene has really evolved. Now that we're a few generations past the first farm-to-table chefs that started it all, their protégés are opening these amazing restaurants and sustaining national buzz that's still causing a still. The national attention is one of the things that got me to notice Portland and now people are seeing this as the place where food matters, where the ingredients matter, and people are coming here for that. Now, it's not just the protégés of the originals that are making waves, chefs from outside of Portland are wanting to be a part of the buzz that's turning this town into one that matters.
Bluehour Northwest 13th Avenue, (503) 226-3394
Open Monday through Thursday 11:30 am to 11 pm
Friday 11:30 am to 11:30 pm
Saturday 5 pm to 11:30 pm
Sunday 10 am to 10:30pm