Happy Hour
Bazi is Boss!
Come for the beer—stay for all the rest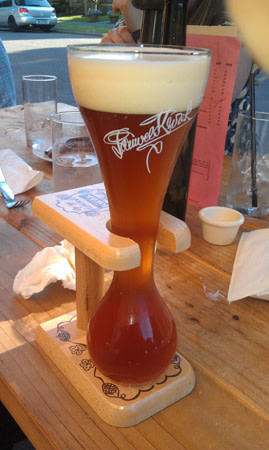 The value of a reliable neighborhood drinking establishment cannot be overstated. With Belgian beer bar Bazi Bierbrasserie (1522 SE 32nd Ave) only a couple blocks from my house, my outlook on life has improved tremendously. Perhaps it's the Cheers factor: a cozy watering hole staffed by amiable folks. When I'm sitting at a sidewalk table casually sipping a malty, nourishing Delerium Tremens Ale, the weather always seems ideal, with just a suggestion of a breeze tousling my locks.
Could be it's the head-spinning selection of Belgian beers —of the 17 rotating taps available, roughly 15 are dedicated to wild yeasty, complex ales brewed in Old World fashion. Most are imports (Duchesse de Bourgogne, Bosteels, Sint Canarus, to name a few), but a handful of regional breweries like Upright, Oakshire, and Double Mountain routinely appear. And if for some strange reason Belgians aren't your cup of tea, the helpful servers are knowledgeable enough to guide you to something in your comfort zone.
Certainly the excellence of Bazi's happy hour, which stretches leisurely between 3 pm and 7 pm daily, plays a significant role in my adoration. The specials include a $5 cocktail, usually something potent and tropical, along the lines of a blood orange mojito, or pepper-infused marguerita. Speaking of which, it would be perfectly understandable at such a bastion of beer if the cocktails were merely phoned in, but that is definitely not the case here. Johnny the bartender is as consistent as sundown in his mixological prowess and the Schipperke—Cruzan rum, blood orange, fresh lemon juice, and splash of simple syrup, served up—has become my girlfriend's go-to drink. (And she's ultra-picky!) In an effort to bridge the beverage gap, Bazi also boasts a dynamite beer cocktail, the Jeanneke, a Belgian beer-infused elixir that combines a tripel style beer, Monopolowa vodka, Aperol and Demerara simple syrup. It's a real corker, as the fruit notes from the ale blend seamlessly with the apricot liqueur, resulting in a very robust refresher. The majority of the cocktails fall into the $7-8 range.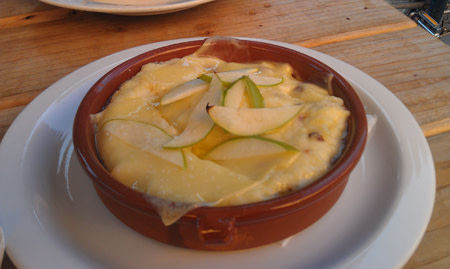 The happy hour menu has plenty of choice chow, such as the GAB burger ($6), an efficiently sized and thoroughly filling patty of beef from Highland Oaks Farm near Salem, topped with an egg. Normally, I don't cotton to having yolk splashed all over my kisser, but here the egg works as a hearty binder for the juicy burger, and the flavors dance delightfully. There's also a daily Stoemp special for $5, based on the traditional Belgian dish of pureed mash potatoes and an assortment of cheese and vegetables. On my last visit, the special featured potatoes, green apple slices, and gruyere. I should mention that paying the extra three $3 for bacon, ham, or sausage is money well spent. It's an avalanche of tastes and textures that still manages to annihilate the pesky hunger pangs.
And then there are the frites (you know, French fries) which I count as being among the best in town. The Flemish frites ($2.50) are blanched and tossed with sea salt. They're small and cooked to a severe crunch, but retain a delicate spudfulness (new word, write it down) especially when plopped into the silky house-made mayonnaise. (I prefer the invigorating curry variety.) The truffle frites are a little more expensive, but they're earthier and more fragrant. Even the humble olive plate (marinated in garlic! Yum! $2) offers a superb alliance of flavors.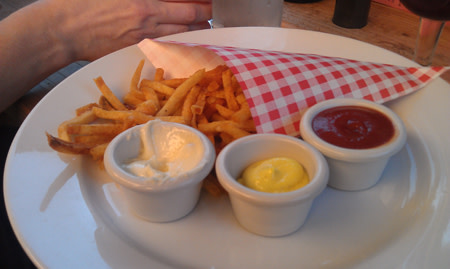 Never fear drinking buddies, I will continue to fearlessly patronize bars, taverns, pubs, and dives from Alberta Street to Wanker's Corner, but I'll tell you this: I sleep better at night knowing that my frites and beer needs are so brilliantly met, and so close to home.