BREAKING FOOD NEWS
Boke Bowl to Open a Restaurant
The roving ramen sensation has a new home next to Bunk Bar on the industrial East Side.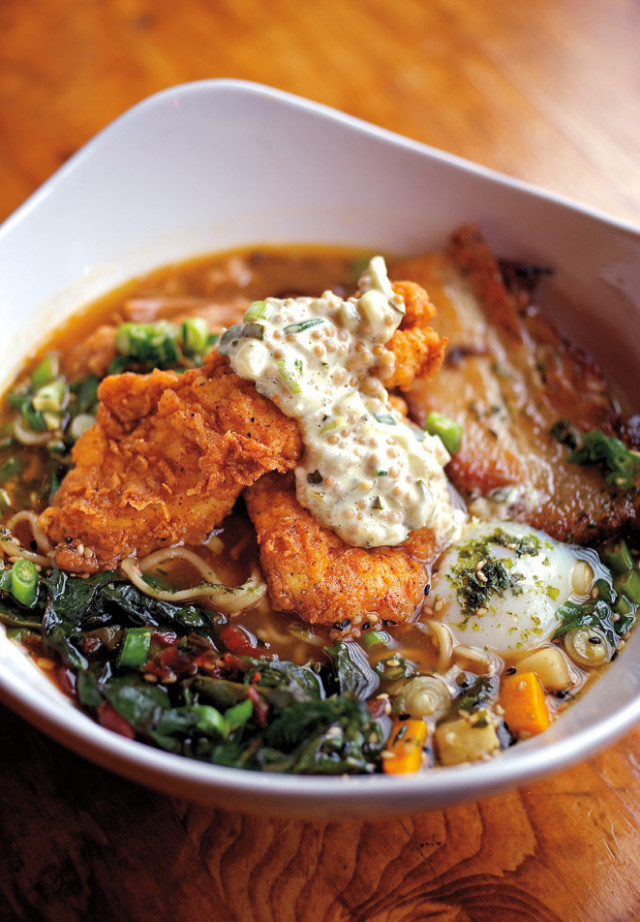 Less than a year after three white guys in the their 40s reimagined the Japanese ramen shop with a roaming monthly feast, a party mindset, and a homegrown social network, Boke Bowl is going legit and launching the next phase of its playfully ambitious menu at 1028 SE Water Ave. The plan is to open the 1,620 square foot space as a lunch spot in October, with roughly 50 seats and a seriously fun design right next door to Bunk Bar and Water Avenue Coffee, across the street from Clarklewis. Prominent architecture/designer Mark Annen, one of the most sought-after names in Portland's restaurant world (Little Bird, Ping, Bent Brick), is designing the space.
It's an amazing rise for a new concept (read Portland Monthly's review here), and Boke Bowl shows how passion, skill, and social networking can help shape innovative entrepreneurial directions. Last fall, cooking fanatic Patrick Fleming and business partner Brannon Riceci, with their food-connected college friend Tim Parsons as consigliere, boldly imagined Portland's first Big Tent food democracy, bringing pork-lovers, vegetarians, vegans, and even the gluten-free crowd to the same table with Facebook alerts and artistic food choices for all at changing restaurant locations once a month. If things went well, Boke Bowl would have a ready-made audience for a future restaurant. It went better and faster than expected. Behind compelling, handcrafted food, a welcoming attitude, and tight organization, Boke now sells out each time with lines out the door. The last pop-up event is today, at 23Hoyt restaurant in Northwest Portland. Boke's strategy has been to visit a different neighborhood every month, with events in Beaverton, Southeast, downtown, and Northeast Portland in recent months.
The new Boke Bowl will continue Fleming's successful formula of three ramen soups with changing toppings, from seasonal rice cakes to local fish finds to the house signature—a bowl bowl teeming with exquisite fried chicken and pulled pork. Other Boke regulars will continue, too: jewel-like Japanese pickles, as many as six at a time, rolled in toasted seaweed paper with homemade kimchi and gingered green onion rice; beautifully steamed pork or eggplant buns; delicately golden homemade Twinkies filled with the likes of miso butterscotch; and an emphasis on homemade everything, from the noodles, smoked meats, long-simmering broths, and deep, rich hot sauce.
To continue the merry spirit of the pop-up, Boke is sketching out possible weekly events for the new location, including a family-style Korean fried chicken night. Another idea on the drawing board: Boke breakfast, emphasizing light, Japanese-influenced foods.
But mostly, Fleming and his crew want to keep the spirit of spontaneous meals alive by sharing Boke's space with other cooking creatives, the way other restaurants have allowed them set up shop for a day and test-drive ideas while developing a following. "I want to give that back," says Fleming. "There's a lot of talented cooks out there, some of them in carts. I want to host people looking to take their next step."