FOOD AND DRINK EVENTS
Summer's End Vegan Dinner at Departure
Join Departure's Gregory Gourdet for a late-summer celebration with PDX's vegan all-stars.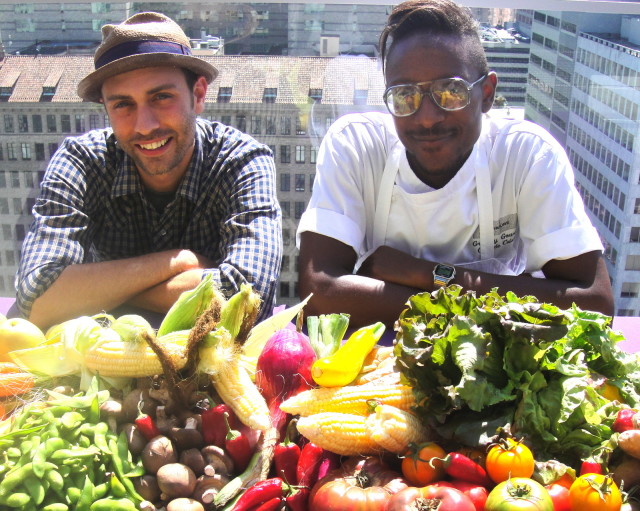 Continuing the trend of transforming vegan food from counterculture to everyday gourmet fare, chef Gregory Gourdet (of the stylish modern Asian restaurant Departure at the top of the Nines hotel) is throwing a late-summer foodie fete that's bringing together Portland's veg-friendly heavy hitters. On September 27th, join Chef Gourdet, Chef Wes Hannah of Blossoming Lotus, and Petunia's Pastries Lisa Clark for an Asian-inspired five-course dinner celebrating the late summer bounty of Portland's farms and foragers.
The meal, set at $50 per person, will include a vegan "carcuterie" board (with vegetable terrines, savory pates, and early autumn pickles), roasted Kabocha squash soup, tempura figs with roasted grapes and candied walnuts, sweet corn custard with grilled runner beans, maple-soy glaze grilled tempeh with smoked heirloom tomato peach marmalade, roasted fall mushrooms with wild ginger and spruce, and a wide array of vegan desserts that will leave your sweet tooth satisfied. A combination of Departure's clean and creative Asian flavors, Blossoming Lotus's brand of southern-inspired vegan cuisine, and Petunia's decadent pastries that just happen to be gluten-free and vegan, this dinner will be the ultimate exploration of the Northwest growing season's pinnacle.
To be sure, this farm-fresh celebration is most certainly not just for vegans. Chef Gourdet isn't a vegan, but professes to "love, love, love fruits, vegetables, aromatics, and herbs. The end of summer/beginning of fall is a great time for fruits and vegetables as you have so many options with the two most bountiful seasons meeting for a few weeks. In my personal life I don't eat dairy and 98% of the food menu at Departure is dairy free. I want Departure to be a place where people know they have options. My greatest fondness and attraction to the vegan lifestyle is that it makes you think outside the box. Everyone is so used to cooking one way, with the same ingredients. When I eat meals at Blossoming Lotus or desserts from Petunia's, I am amazed at the ingredients and techniques used. It is so different, and everything is so natural, healthy and very delicious."
Departure's Summers End Vegan Dinner: Tuesday, September 27 at 7pm. For reservations, call 503-802-5374.
Departure Restaurant + Lounge 525 SW Morrison St; 503-802-5370