Weekend reminders
More Beer & Best Bartenders
Two more events to add to an already crowded calendar.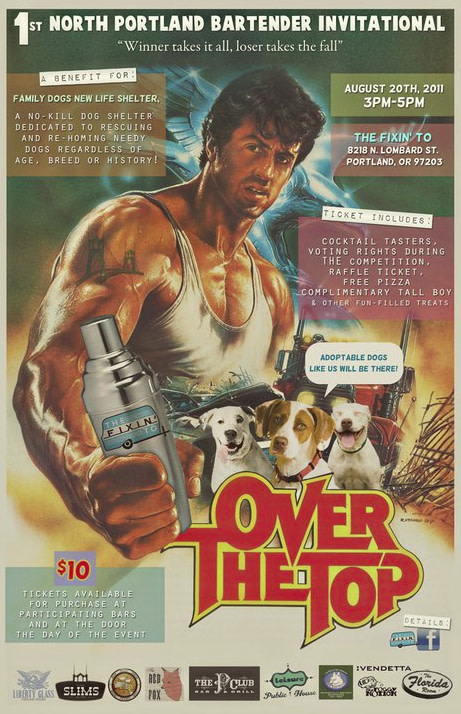 So PDX Beer Week is here. And we're awaiting the arrival of the Lagunitas Beer Circus. You're probably thinking to yourself, "There's no way to cram anymore hooch happenings into the coming weekend. I'm already calling in sick on Monday." Well, I hate to be the bearer of good news, but there's even more in store over the next 60-plus hours.
Drinking buddy and former Portland Monthly editor Bart Blasengame, who traded in his journalism gig to work behind the bar at his own watering hole, the very excellent Fixin' To in St Johns, dropped me a line about the First Annual North Portland Bartender Invitational, taking place tomorrow (Saturday) at the Fixin' To (8218 N. Lombard St) from 3–5. Mixologists representing Liberty Glass, Slim's, Red Fox, Vendetta, and the Florida Room, among others, will compete for the honor of being known as North Portland's most bad-ass barkeep. Your $10 cover includes free pizza, voting rights, and a raffle ticket for an assortment of faboo prizes. Most importantly, the money goes to Family Dogs New Life Shelter, a no-kill shelter dedicating to rehoming dogs regardless of age, breed, or history. And if that isn't enough, there will be adorable adoptable pooches on the premises looking for their forever homes. Do it for the dogs!
One of my breweries of choice, New Old Lompoc, will be celebrating its 15th anniversary on Saturday starting at 11 am, at the New Old Lompoc (1616 NW 23rd Ave). The name of the soiree is "15 Beers for 15 Years" and will feature taps dedicated to a whole slew of New Old Lompoc brews past and present, such as Saazall Pilsner, 2008 Jolly Bock, Caribbean Coffee Stout, Bourbon Barrel-Aged LSD, Old Tavern Rat Barleywine, Alpha Blonde Dry Hopped Belgian Golden, and lots more. On a bittersweet note, the press release reads, The anniversary party may be a swan song of sorts – demolition of the New Old Lompoc is certain for 2012 to make way for apartments and upscale retail.Whether or not Lompoc returns to the new building remains to be seen.
In the words of Henry Wadsworth Longfellow, "Into each life some rain must fall…" Obviously Longfellow never spent a year in Portland.