PDX ON TV
Gourdet Goes Extreme
Portland Chef Gregory Gourdet of Downtown's Departure will be on Extreme Chefs this Thursday evening, and we've got the inside scoop.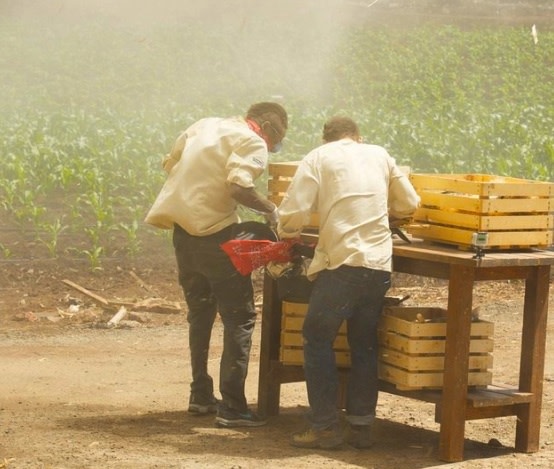 If you haven't tuned in to an episode of Extreme Chefs on the Food Network, you're missing out on a camp-tastic extravaganza of nonsensical culinary challenges. Imagine three professional chefs cooking a meal on an open flame in a downpour (using only ingredients from unlabeled tin cans) or preparing a gourmet dish using only a manicure set in order to win $10,000 and legit bragging rights. Yes, it's ridiculous, but it's also a lot of fun, and it's about to get even better: Local chef Gregory Gourdet of sky-high Departure Restaurant will be appearing on this Thursday's episode!
This week's Extreme Chef will require culinary pros to "Survive the Farm" – with some pretty taxing challenges set in the California countryside (yes, it exists). Chefs will jump bales of hay, gather eggs from chickens, and prepare breakfast using some very minimal equipment before digging frantically through a muddy potato field and running through a dust storm. And that's only the first half of the episode.
I sat down with Chef Gourdet to get the inside details behind what looks to be one of the most intense episodes of Extreme Chefs yet.
What was the most difficult part of filming Extreme Chefs?
I think the hardest part was the actual cooking and dealing with the judges [Josh Ozersky and Simon Madjumdar]. I had to shake off the physical challenges and curveballs they threw at me, accept what tools and ingredients I had to work with and go for it. We were told what kind of food to cook and the judges never took into consideration what we went through or what tools we had. Restaurant quality food was expected.

I had the luck of having real food ingredients on my challenge, not canned food or things frozen in ice. The pressure is on because whatever you make has to look good, be delicious and follow the guidelines. You are also putting it out there for all of America to see. It is tense.
So is the reality of filming the show as extreme as it looks on TV?
The physicality of it was completely real. It was a real workout and test of endurance. We got really, really dirty too. Worst of all, we had to do some scenes more than once…I kind of felt like a stunt man! At the end of the day the plate was all that mattered. Being in decent shape, I saved some minutes on the clock.
Sounds like you had to take off time from the restaurant to put up with some very hard challenges. Was it worth it?
Taking time away from the restaurant to do something like this can definitely be worth it. At the end of the day more people know about the restaurant and that is always a good thing. My Sous Chef PJ is great and my team keeps things moving at Departure the very, very few nights I am not there.
At the end of the day, I would do it again. There isn't really too much ego involved on a show like this compared to other reality cooking shows. Extreme Chef isn't meant to be too serious, it's just good dirty fun and entertainment. The contestants actually got along great off camera, and the producers didn't like that too much, but our competitive sides did come out. I really don't like losing.
We're rooting for you, Chef!
Check out Extreme Chefs on the Food Network this Thursday, August 4 at 10 pm.
Departure Restaurant + Lounge
525 SW Morrison Street, Portland, Oregon 97204 P 503-802-5370