FOOD AND DRINK EVENTS
No Kid Hungry Dinner at ISK
Some of Portland's top female chefs are cooking up a storm for a good cause, but they weren't always sophisticated gourmands.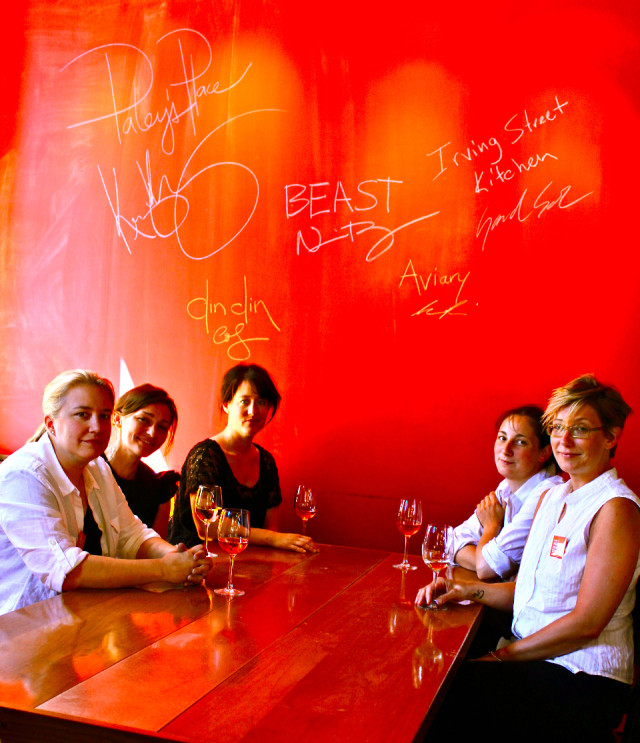 A chef's job is inherently comforting—they make a living preparing sustenance and serving up a welcoming experience for their guests—which explains why the culinary industry is full of people willing to work for a great cause. You can lend a hand—and a mouth—to one such cause next month: On September 26th, join several of Portland's top female chefs for a one-of-a-kind "No Kid Hungry" dinner at Irving Street Kitchen.
This lady-powered event is bringing together some of Portland's top culinary talent to benefit Share Our Strength®, a national nonprofit working to end childhood hunger in America by 2015. Irving Street Kitchen's Sarah Schafer has put together a team of culinary dynamos, including Naomi Pomeroy (Beast), Sarah Pliner (Aviary), Courtney Sproule (Din Din Supper Club), and Kristen Murray (Paley's Place). The seated, multi-course dinner—with wine pairings—will blend the talents of these Wonder Women in Chef Whites, and will also feature a one hour cocktail reception with drinks from mixologist Lucy Brennan (Mint/820).
For tickets (starting at $150) visit the Share Our Strength website or contact Rachel Canter at [email protected] or 202-649-4356 with any questions.
In the spirit of making sure no child goes hungry, I asked a few of the participating chefs what they loved—and hated—to eat before they were tall enough to reach the top shelf of the fridge.
Sarah Schafer, Irving Street Kitchen
When I was a kid I loved Peanut Butter and Jelly sandwiches. My mom used to make killer bread and homemade jam from my grandfather's orchard. I still believe there is a true art to making a good peanut butter sandwich. I also loved "Millron's Fish and Chips" — a local fish restaurant in Boston that my parents would to take us to on special occasions. Whatever they put in their tartar sauce was like crack. Aside from my favorites, I was definitely a picky eater. I refused to eat a green vegetable. To this day my mother loves to tell people that corn is the only vegetable she could get me to eat, and I didn't graduate to salad till high school.
Courtney Sproule, Din Din Supper Club
In Pennsylvania where I grew up, my grandfather tended an ambitious garden of Silver Queen corn and lima beans which my mom used to prepare perfectly and I now miss here in the Northwest. I think we devalue kids' innate judgment when we call them "picky" eaters. I remember being afraid of the taught skin of commercial cherry tomatoes and the rubberiness of white button mushrooms. It took me a very long time to learn what a real example of both vegetables tastes like.
Sarah Pliner, Aviary
Artichokes were my favorite food when I was little. We only had them once in a while, so they were definitely a treat, but I was really a terrible eater as a kid. The list of things i wouldn't eat goes on and on, seems ridiculous now. My least favorite thing was marzipan. it's still the one food I've never swallowed. There was one restaurant we went to that had a pickled herring dish I loved. My mom made fun of me for it, I'm still not sure why.
Kristen Murray, Paley's Place
I loved kumquats when I was little. My great Aunt Crys had a sweet little garden behind her home in Pasadena where I grew up. She helped to raise me and taught me how to cook. I would fill my apron with bright kumquats, juicy figs, honeyed persimmons and crisp snap peas. I wasn't really a picky eater, I was exposed to so many wonderful fruits and vegetables as a child, and I was surprised to learn that other children were not so in love with quince, persimmons, and Brussles Sprouts. I was "treated" to fast food of my choice on Sunday's after Sunday school. I really loved the western bacon cheeseburger at Carl's Junior with onion rings, extra BBQ sauce and waffle cut fries or Kentucky Fried Chicken.