OPENING DAY
Inside Salt & Straw's Scoop Shop
Eat Beat's got the photos and flavors from Salt & Straw's ice cream epicenter on NE Alberta, opening today.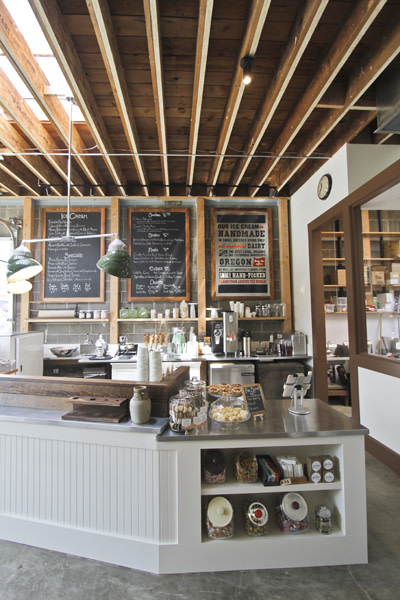 I'd like to wax poetic about the long and arduous journey from idea to cart to brick-and-mortar store, but Salt & Straw's Kim Malek makes it look easy. Only three short months have passed since Eat Beat blew the cover off of the summer's coolest idea, but Malek's ice cream takeover is near complete. The new scoop shop—inspired by historic mercantile stores that stocked local goods and acted as community gathering spots—is opening today at 2035 NE Alberta, and is absolutely packed with enough creative ice cream flavors, retro candy, vintage appliances, and reclaimed materials to feed anyone's hunger for nostalgia, design, and dessert.
Salt & Straw has quickly developed a reputation for its wacky flavors rooted in tradition, and the shop's interior is a reflection of the ice cream itself—a throwback to an earlier time with a modern, creative twist. A decidedly 21st-century iPad cash register stands in front of a vintage waffle maker that fills the shop with the smell of freshly made cones, and a well-curated collection of Portland's top artisan products—think Steven Smith Teas, Stumptown coffees, and jars of handmade smoked cherries from KitchenCru's Michael Madigan—sits nestled amongst vintage artifacts in an old library bookshelf.
The effect is transporting, and the feeling of being in another place and time is only strengthened by a mouthful of Salt & Straw's ice cream. We've got the photos from today's opening, though the full effect definitely needs to be seen with your own eyes. Stop by, grab a scoop, and spend some time getting to know your neighbors the old fashioned way.
Salt & Straw Scoop Shop 2035 NE Alberta, 12-11pm daily.
The scoop shop was designed by Hammer and Hand, Portland-based builders who specialize in reclaimed materials and craftsman design. Wood for the Salt & Straw space was "upcycled" from the barn at the Oregon State Hospital featured in One Flew Over the Cuckoo's Nest, bleachers from the original Lewis & Clark auditorium, and an elementary school in Southern Oregon.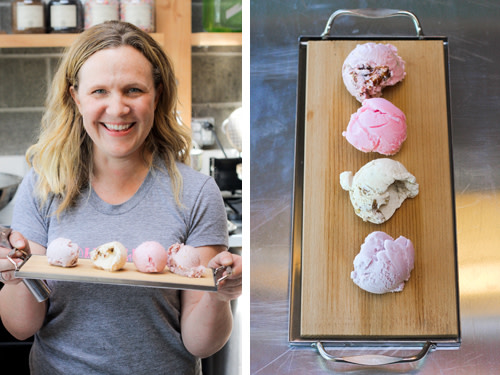 Owner Kim Malek and head ice cream maker (her cousin, Tyler Malek) revealed several new flavors for the shop's opening, including Three Berry BBQ (with raspberry, huckleberry, marionberry, baked beans, and BBQ sauce), Big Hibiscus (a vegan hibiscus tea sorbet resulting from a collaboration between Malek and Steven Smith Teamaker), Banana with New Deal Hot Monkey vodka and Oregon walnuts, and Honey Lavender (with Red Ridge Farms lavender).
The bookshelves housing Salt & Straw t-shirts, coffee condiments, Oregon dairy artifacts, and local artisan products once held children's books at the Multnomah County Library. If you look closely, you'll spot the library's original category labels.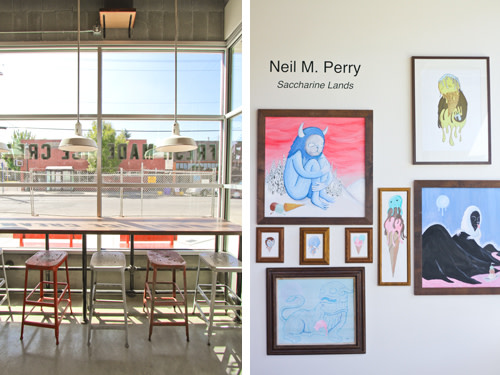 The black walnut window bar (constructed with old gas pipes) looks out onto Northeast Alberta, and the bar stools also provide a front-row seat for the shop's mini art gallery. Current art on display includes ice-cream inspired selections from Neil Perry, one of Salt & Straw's original cart scoopers.
Salt & Straw's waffle cones are handmade every day using an old-school waffle maker and an ingenious cone-rolling device and are then stacked high to be filled with ice cream. The smell of the freshly-made waffles wafts out of the shop—you can honestly smell it a block away.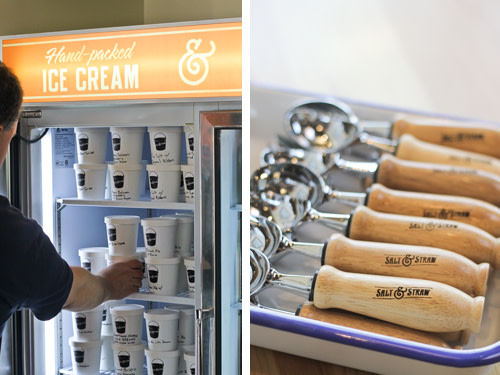 Pints of the most popular flavors are available to go in a custom refrigerator, and—for the true Salt & Straw enthusiasts—you can pick up your very own logo'd ice cream scoop.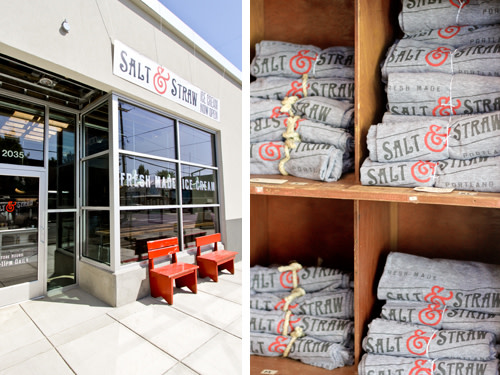 The space next to the new scoop shop will soon be the site of film screenings, local music shows, and more—for now, the sweet red benches are an ideal spot for some people watching or sharing a scoop with a sweetheart.