Expansion Plans
Little Big Burger in SE!
Micah Camden's rapidly expanding edible empire hits SE Division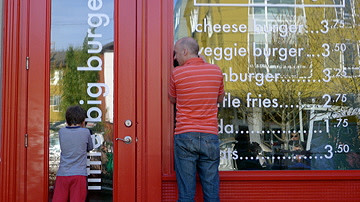 Less than two months after bringing his modernist fast food concept to N Mississippi Avenue, burger man Micah Camden has inked a deal to open his third metro area Little Big Burger at 3806 SE Division Street, with plans to open this fall. The 1,200 square-foot space is located in a new multi-use building that houses lofts and retail space.
For Camden and fiance/business partner Katie Poppe, the combination of good prices, high quality, and playful, eye-popping design has been potent for Little Big Burger, which opened its Pearl District prototype at 122 NW 10th Ave only last winter. Lines formed almost overnight in an upscale district clearly hungry for something quick, affordable, and quite tasty. According to Camden, the Mississippi branch at 3747 N Mississippi Ave has already earned back its roughly $85,000 investment. Read my review here.
Meanwhile, a Eugene outpost, as Eat Beat reported in June, is slated to open in October, across the street from the new $200-million Matthew Knight Arena, and just blocks away from University dorms.
Camden says he wasn't looking to expand this quickly, but opportunities are knocking. "Are there deals out there right now? Oh yeah .. and incentives, too," he says.