Readings and Drinkings
Charles in Charge
Night of the Bluebird: Bukowski's Birthday and Barfly screening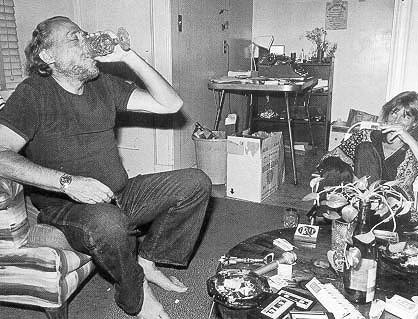 I could see the road ahead of me. I was poor and I was going to stay poor. But I didn't particularly want money. I didn't know what I wanted. Yes, I did. I wanted someplace to hide out, someplace where one didn't have to do anything. The thought of being something didn't only appall me, it sickened me . . . To do things, to be part of family picnics, Christmas, the 4th of July, Labor Day, Mother's Day . . . was a man born just to endure those things and then die? I would rather be a dishwasher, return alone to a tiny room and drink myself to sleep. -Charles Bukowski
Half-empty liquor bottles, tumultuous relationships with dangerous women and a haggard-literary-proletariat persona. No, this is not my OK Cupid profile (I swear). It's all about poet and writer Charles Bukowski.
The hard-drinking womanizer and horse racing aficionado, who was aptly dubbed "The Laureate of the American Lowlife" by Time magazine would have been 91 years old tomorrow. If you love stories of hopeless, hedonistic alky-degens as much as we do—or just want to roister and revel with like-minded lost souls, fall by the Mission Theatre (1624 NW Glisan) tonight for readings, writings, and a screening of the semi-autobiographical (and Bukowski penned) film Barfly, starring Mickey Rourke (who else?) as Bukowski's alter ego Henry Chinaski.
21 and over only, $5. Doors at 8:30, readings at 9pm and Barfly at 9:30pm.