FOOD AND DRINK EVENTS
Photo Recap: Beer 'n' Burgers
Last Saturday, Portland Monthly threw an epic party full of brews and burgers, and we've got the photos.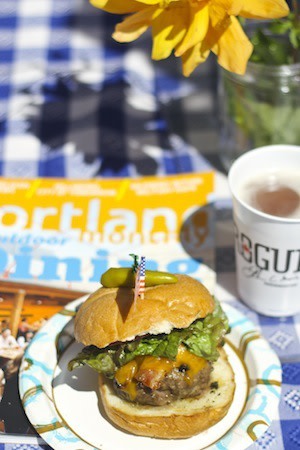 I know you can't make it to every great food event you read about here on Eat Beat. That would be crazy. But what's the next best thing to sinking your teeth into a juicy charbroiled slider topped with pork belly from your favorite brewpub? Looking at some close-up photos of a juicy charbroiled slider topped with pork belly from your favorite brewpub, of course!
So sit back, put your feet up, and party vicariously through these photos from the second annual Beer 'n' Burgers event. Seven brewpub chefs served up their best burgers in the hopes of winning votes from hungry diners, and 10 breweries poured at least two of their top summer beers for the smash-hit event. The afternoon was hot, sunny, and filled with the smell of fresh beef on the grill—truly a summer day to remember.
And now, to the photos!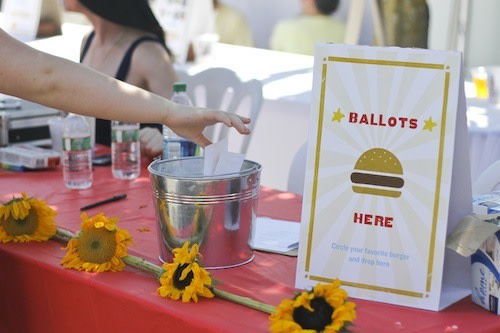 Diners had the chance to vote for their favorite of the seven brewpub and beer bar sliders, choosing between flame-grilled offerings from Deschutes Brewery, Laurelwood Brewing, Henry's Tavern, Burnside Brewing, Alameda Brewhouse, Widmer Brothers Brewing, and Bridgeport Brewing.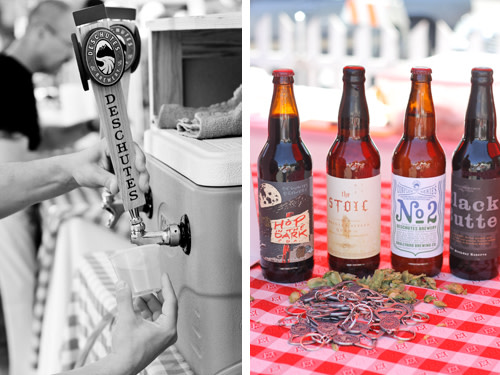 Deschutes Brewery took away the best burger prize for its "Yellow Belly Burger"—a spicy pesto, candied yellow pear tomatoes, whipped goat cheese, and Obsidian Stout–braised pork belly atop a Coleman Ranch beef patty on a whole-grain mustard ciabatta bun. The burger was paired with Deschutes' Portland pub's own Armory XPA, at 6.0% ABV and 58 IBUs, and The Cyclist, a traditional (and super-refreshing) beverage made with hefeweizen and lemonade at 3.6% ABV and 20 IBUs.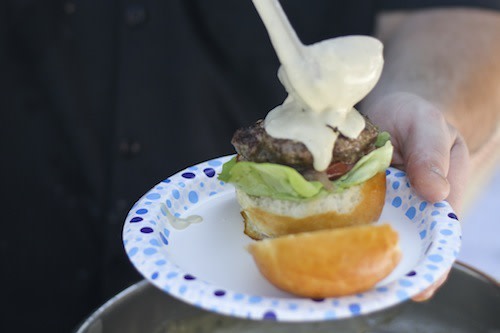 Widmer Brothers Brewing grilled up some Gasthaus Burgers, with an Oregon beef patty, butter lettuce, heirloom tomatoes, and caramelized onions served on a toasted brioche bun topped with a decadent pour of Rogue Creamery smoked blue cheese and Nelson IPA fondue.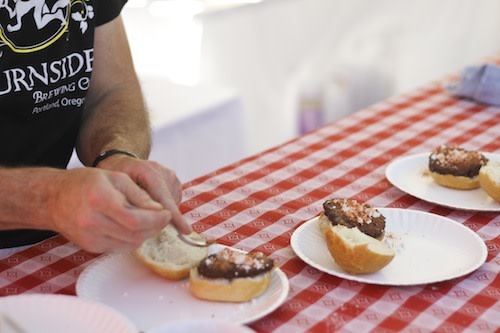 Burnside Brewing offered up the Burnside Burger, a liquid nitrogen–dipped and duck fat–fried beef patty with ketchup, grilled onion, bacon, and Tillamook cheddar powders, served with dill pickle "caviar"—a scientific take on the BBQ basics. But how'd it taste? Just like a burger and all the trimmin's.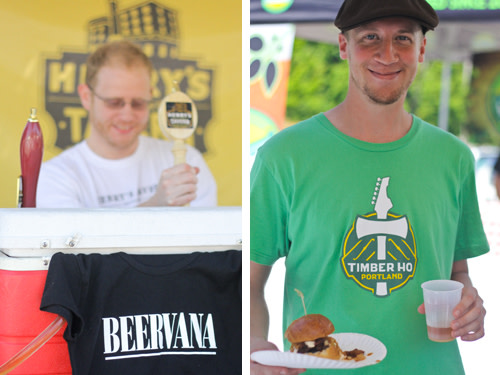 From Timbers fans to Beervana shirts, this year's Beer 'n' Burgers event was so Portland. Hungry for more beery food events? Check out the Portland Beer Week website to get the scoop on the events happening all week long.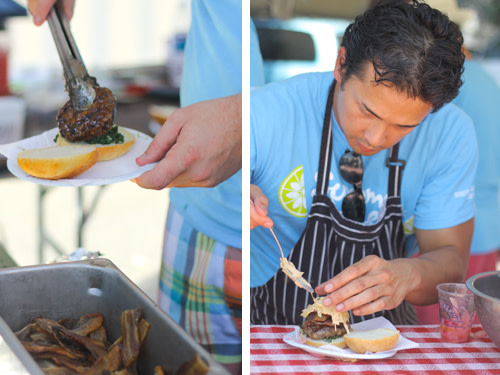 Bridgeport Brewing's Big Island Little Burger served up a tropical twist, with a beef and pork belly patty topped with char sio glaze, house-cured pork belly, spicy sambal slaw, cilantro chimichurri, and pickled red onions served on a Portuguese sweet roll.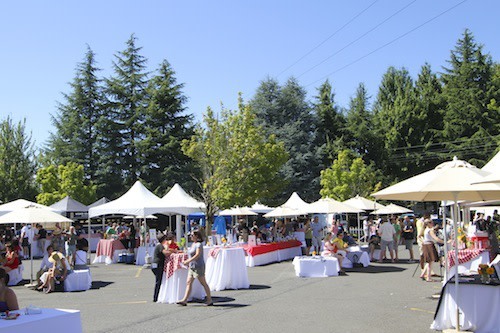 Hundreds of people braved the hottest day of the summer, coming out to the Hollywood Fred Meyer to support Partners for a Hunger-Free Oregon. 100 percent of the event's net proceeds went directly to their Summer Meals Program that helps provide funds for organizations to serve meals to low-income children during the summer.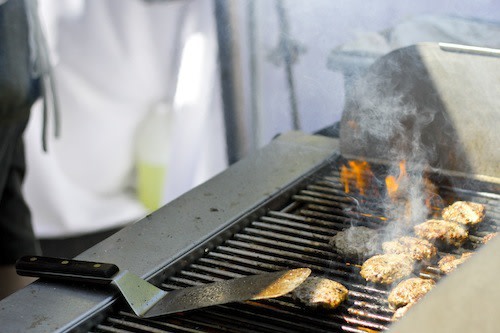 You gotta give these brewpub chefs some credit—standing over a grill like this for a few hours on a hot Saturday takes some serious devotion. Thanks again to everyone who participated in this year's Beer 'n' Burgers event. Did you attend? Which was YOUR favorite burger?