FOODIE FREEBIES
PDX Tastemakers 2012 Calendar
Score a free copy of the calendar that will get your appetite growing, The Tastemakers: Portland Chefs 2012.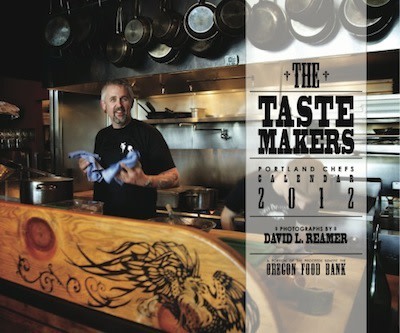 Move over firefighters, lighthouses, and infants dressed as flowerpots…it's time for a calendar shake-up, chef style. For the first time ever, you'll be able to mark off your dates on a calendar that puts the spotlight on Portland's culinary elite. Make note of your niece's birthday while gazing at Ned Ludd's Jason French, allow Beast's Naomi Pomeroy to help you finally remember your anniversary, or plan your next dinner party under the supportive gaze of Toro Bravo and Tasty N Sons' John Gorham. It's all possible with Silver Moss Productions' The Tastemakers: Portland Chefs 2012 calendar.
Thanks to the plethora of open kitchens in Portland's restaurants, the city's culinary personalities are quickly becoming accustomed to the spotlight, and chefs are known for their supernatural time management skills—so why not combine the two? This calendar (retailing at $15.95) brings the city's top chefs to your kitchen, office, or bedroom, with twelve full-color photos (from Portland photographer David L. Reamer) and plenty of little-known facts about our restaurant royalty gathered by Silver Moss Productions' Teri Gelber, Marjorie Dial, and Christina de Tessan.
Foodie Freebies: Eat Beat scored two copies of the culinary calendars, and we want to give them to YOU! Simple send an email to me at [email protected] with "PDX Chef Calendar" in the subject line. I'll pick two winners at random at 5 pm on Thursday, August 18th to receive their very own FREE copy.
Don't want to wait? Calendars are available at the Tastemakers 2012 Website, at Powell's books, and at specialty shops around town.