FOOD NEWS
Sunshine Tavern's Weekend Brunch
This just in: Jenn Louis and David Welch's family-friendly Division street spot is opening for weekend a.m. revelry.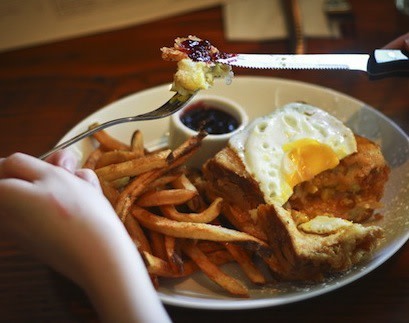 Attention brunch fanatics: time to welcome a new player to the Saturday and Sunday longest-morning line game! Sunshine Tavern will be opening for weekend brunch (9 am to 2 pm) on September 2nd, bringing husband-and-wife-team Jenn Louis and David Welch's style of Northwest nosh to Southeast Division's weekend rush. Eat Beat scored a sneak peak of the upcoming brunch menu, and it's chock full of creative concoctions that put comfort first.
Brunch options are set to include Sunshine's signature baked eggs with tomato, oil-cured olives and tesa (served with hash browns), a "pasta fritatta" with marinara and arugula salad, ricotta doughnuts with ginger sugar, breakfast pizza with two eggs, roasted tesa, parmesan, wild oregano and olive oil, brioche bread pudding, and even a breakfast risotto with blueberries, cinnamon sugar and creme fraiche. In true Portland style, every dish comes with the option to "put an egg on it"—choose between hen, duck, and even turkey eggs to grace your brunch for a few bucks more.
And in case you were wondering, yes, you can order their addictive soft-serve ice cream for breakfast.
Sunshine Tavern – 3111 S.E. Division St; 503-688-1750
Brunch – 9 am to 2 pm, Saturday & Sunday
Dinner – 5 pm to 11 pm, Seven Days a Week