FOOD NEWS
Tails & Trotters New Retail Space
Get your Tails & Trotters kick at KitchenCru, starting this week.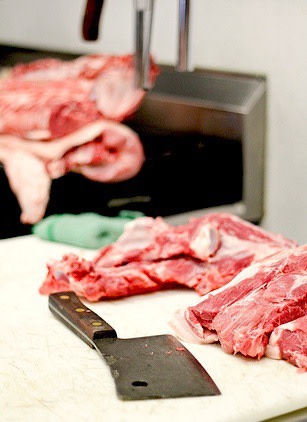 Tails & Trotters charcuterie and fresh meats have long been an open secret among chefs and savvy home cooks, but access to their top-notch hazelnut-finished pork has been limited to local farmers markets, specialty stores, and restaurants like Beast, Castagna, Irving St. Kitchen, and Laurelhurst Market.
While owner Aaron Silverman searches for a permanent retail location, conscious omnivores will now be able to get their fill of coppa, guanciale, tesa, and more at KitchenCru (337 NW Broadway, at Flanders) every Wednesday and Friday from 4 to 7 pm.
Tails & Trotters is no stranger to KitchenCru. Not long after the collaborative kitchen opened, Silverman began producing artisan meat products to sell at local farmers markets (including the Buckman and PSU Portland Farmers Markets). When the opportunity to expand their retail into regular hours at KitchenCru popped up, he was quick to take it.
Every Wednesday you'll be able to stock up on fresh butchery, sausages, cured meats and pantry items (think lard, rillettes, sugo, stock, and more), and Fridays mean fresh deli meats (like corned brisket, ham and
"porkstrami"), pates and marinated cuts, plus frozen butchery, sausages, cured meats and pantry items.
Insiders tip: If, like me, you're into the "weird" cuts—like ears, tongues, and those infamous tails and/or trotters—the company is happy to take special orders to accommodate a specific recipe or taste.
Tails & Trotters at KitchenCru 337 NW Broadway, at Flanders, 503-680-7697