FOOD AND DRINK EVENTS
Tea Time in the Rose City
Slow down for some formal—and not so formal—tea service with kids of all ages.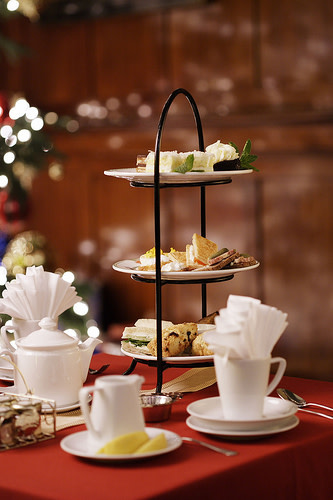 In a city where most culinary experiences are reserved for diners of a certain age, it's pretty refreshing to see an event catering to the young and young at heart. This Saturday—August 20th—be a part of a Mothers & Daughters Fairy Tale Afternoon Tea with Cindy McGonagle at Salt, Fire & Time. This event will include some backyard whimsy you just wont see at a nine-course tasting menu for grown-ups—think ribbons, magic, lace, baubles, bubbles, and a delicious menu of summertime treats.
The menu will include summer vegetable Shepherd's Pie, watermelon-mint gazpacho, crostini with fresh mozzarella and grilled tomato, and a pair of desserts including chocolate shortbread with pink slip jams and rose petal caramels by Alma Chocolates. Grab a gaggle of your favorite girls and spend an afternoon sipping tea and sharing stories for this sweet celebration of summer.
Salt, Fire & Time's Fairy Tale Afternoon Tea, Saturday, August 20th from 2pm-4pm
1902 NW 24th Avenue. Pre-Sale Tickets are available on the website for $30 per person.
Can't make the date? Check out other family-friendly High Tea experiences, including the Heathman Hotel's Tea Court (including the Peter Rabbit Tea for little ones), available weekdays at 2 pm and weekends at 12 and 2 pm (call 503-790-7752 for reservations). We also love Lake Oswego's Lady Di's British Store and tea room (503-635-7298) offering afternoon teas in the tea garden, and Sherwood's Lavender Tea House, specializing in formal tea service (think sweet cream scones with clotted cream and finger sandwiches)
as well as etiquette camps. Contrary to popular belief, keep that pinky finger tucked in.