RESTAURANT NEWS
The Reinvention of Central
The hip hangout once known for crepes and moonshine is now home to a haute cuisine block party… will it work?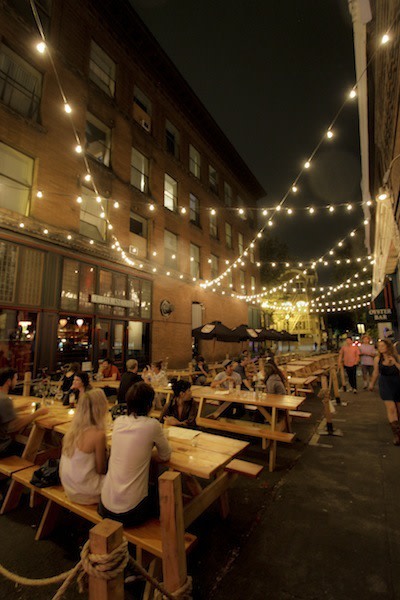 When Central debuted last summer around the corner from Voodoo Doughnuts on SW Ankeny, it quickly became a go-to spot for industry insiders and layfoodies alike. The speakeasy-inspired spot behind the crepe window—initially an outpost of Dustin Knox's Perriera Creperie empire—was a popular after-dinner choice for an old school cocktail or a midnight snack, and it was doing just fine. But then a series of events caused a domino effect that leaves us with the Central of 2011, an al fresco dining destination serving up some truly refined plates on wooden picnic tables. Here's what went down:
From alleyway to block party: After a long series of discussions with PDX's transportation powers-that-be, the stretch of SW Ankeny between 2nd and 3rd has been transformed into a car-free, pedestrian friendly zone reminiscent of a European alleyway, complete with cafe tables and strings of twinkling lights. The plein air dining room expansion added an additional 40 seats to Central's capacity, and blew the cover off any leftover "speakeasy" pretense from the restaurant's opening.
With new space, a new chef: If you've missed Fenouil's refined plates and outdoor patio, Central is now a reasonable facsimile: the shuttered restaurant's talented chef Jake Martin has set up camp in the spot's tiny kitchen and he's making the most of it. He's still sourcing top-notch ingredients and turning out sophisticated, beautiful plates that celebrate the season, but he's got free reign over the food selections and won't be constrained by a predetermined culinary style.
With a new chef, a new menu: The reformed (and crepe-free) menu is divided into "Cold" and "Hot" small plate options, priced between $8 and $16. Current cold selections include an heirloom tomato salad with basil, Spanish anchovies, and manchego cheese ($8), salt roasted beets with smoked sablefish and a rye crisp ($9), and a delicious ahi tuna crudo with white miso, cucumber, and arugula ($10). On the hot side, a decadent potato gnocchi with lobster, tarragon, and mascarpone would be a late-night munchies dream ($16), the grilled flatiron steak with roasted tomato, parsley, and blue cheese is a classic ($14), and vegetarians will love the sweet corn risotto with Parmigiano Reggiano and thyme ($12).
With a new menu, new drinks: While the dining menu fills a single page with just 11 options, the drink menu sprawls with creative concoctions that are bound to please any sort of sipper. From the Absinthe Frappe (an unlikely combination of absinthe, lime, and cream that screams "root beer float", $9) to the PB Jewel with peanut bourbon, jam, bitters, and lemon ($10), even the connoisseuriest of cocktail connoisseurs will have room for discovery. On the wallet-friendly side,a long list of highballs are available for $5 everyday during happy hour (5 to 7), including Fernet and Grape Juice, the Tequila & Grapefruit, and the Orange Juliette with vanilla spiced vodka, orange juice, and a whole egg.
So what happens now?: Chef Martin's previous kitchens, Fenouil and Carlyle (which closed in April 2011 and February 2010 respectively), were both well-reviewed restaurants with ambition that couldn't capitalize on their location or target clientele, which begs the question: Who is Central's audience? The menu as it stands, while offering some truly delicious bites, feels like Fenouil-light (with prices that don't mesh with the casual atmosphere). As the car-free zone shifts the feel of the neighborhood, will Central become an epicenter of Downtown refinery and be able to keep its indie cred? Do tipsy imbibers really want a $16 lobster gnocchi? With an ambiance like this, here's hoping.
Central: 220 SW Ankeny; 503-869-1445
Hours: Mon-Sat 5 pm – 2:30 am (only "cold" menu items served after 11 pm)