FOOD AND WINE EVENTS
Wine Wednesday: Vino Events
We've got your picks for the weekend's upcoming wine happenings.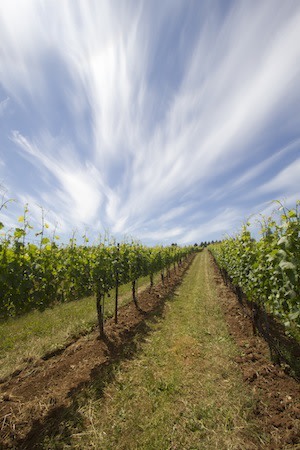 Welcome to Wine Wednesday, wherein we wax wondrously about wine wonders near and far. We've popped the corks on the weekend's wine events, complete with plenty of food pairings (this is Eat Beat, after all). Drink up!
Know about a great wine event coming up? Let us know!
Dundee Hills Wine Experience Thursday, August 11th: Get to know the big players and characteristic tastes of the historic Dundee Hills wine community with a one-of-a-kind wine experience. This Thursday, at the Left Bank Annex in Portland's Rose Quarter (101 North Weidler), you'll be able to taste through current and library vintages of three generations of participating Dundee Hills wineries. Sip through the history of one of Oregon's most celebrated AVA's, the birthplace of Pinot Noir.
Tickets are just $55, and include wine tastings, food, and a commemorative Pinot Noir glass.
Thursday, August 11, 2011; 6pm to 9pm; Tickets: $55
The ¡Salud! Sip Wine Auction Kick-off, Saturday, August 13th: It's ¡Salud! wine action's 20th anniversary, and the organization—which works to provide access to healthcare services for Oregon's seasonal vineyard workers and their families—is celebrating with some of the area's best restaurants. If you've been holding on to a great ¡Salud! Cuvée, it's time to pop that cork. Restaurants throughout the Portland area are hosting sipping parties (without corkage fees), so dust off your bottles and head to Castagna, Genoa, Le Pigeon, Metrovino, Nostrana, Wildwood, and plenty more restaurants. Check out the full list and get more info about ¡Salud! here.
White Burgundy and French Cheese Pairing at Scott Paul's Carlton Tasting Room, Saturday August 13th: Next up in Scott Paul's series of Burgundy tastings, the Carlton-based winemakers and importers will sample five great '08 White Burgundies, each from a different producer and appellation, paired with the ideal cheese handpicked by Steve Jones from Cheese Bar. The epic pairing afternoon will take place at the Scott Paul tasting room, at 128 S. Pine Street in Carlton.
August 13th; Noon to 5; $15 tasting fee, refundable with any 3-bottle purchase of the featured wines; Call 503-852-7300 for more info
Hawk's View Dinner, Saturday, August 13th: Join Hawks View Cellars at the Hall Street Grill for a winemakers dinner in Beaverton, Oregon from chef Travis Dickinson. Indulge in six courses of delicious summer dishes, including snap pea flan and lobster ceviche with a 2008 Riesling, spicy greens with grilled peaches and ham with a 2010 Pinot Gris, chili and cocoa crusted ahi tuna with a 2009 Pinot Noir, fried wild boar and Oregon mushroom terrine with a 2007 Pinot Noir, and more.
3775 Southwest Hall, Beaverton; $95. per person/gratuity included; For reservations contact Sandra Scolari at [email protected] or 503.641.6161