WINE WEDNESDAY
5 Questions with Castagna Sommelier Jack Hott
Castagna's wine director shares his tips for talking to sommeliers to make sure you get a wine you love, every time.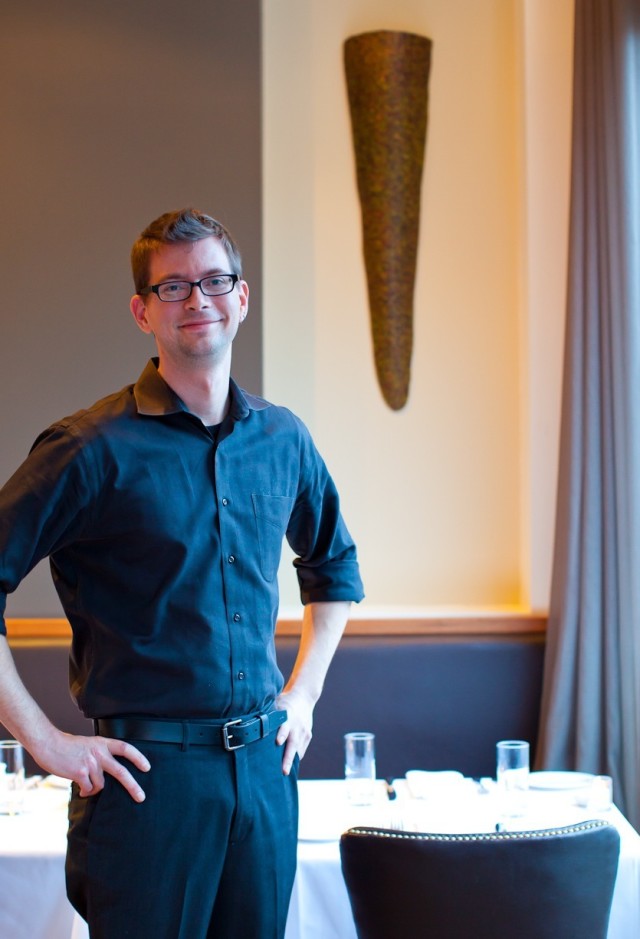 At a restaurant known for it's adventurous, thoughtful, and modern cuisine, Jack Hott's wine list shows its own sense of play and creativity. Just as diners surrender themselves to the unknown ingredients and unexpected flavor combinations of Castagna's menu, choosing the wine pairings for each chef-selected course is a venture into the wilds.
As is true of all wine lovers, Hott's interest in wine started from square one—and he's still passionate about helping wine novices take their initial leap into the tall-stemmed glass. I sat down with Castagna's head wine honcho to get the scoop on where he started, what he's loving now, and how to tackle wine-list phobias.
What did you drink in your early wine years, and how has your palate changed?
To be perfectly honest, my early wine years were beer years. It wasn't until I started working in fine dining that I was introduced to wine in any real way. I made the exponential leap from PBR to Champagne. If anything, my palate is developing backwards. I've moved from complex and ponderous wines to refreshing, simpler wines that show off their fruit. I started with stately aged Burgundies, but these days I enjoy fresh young wines from Beaujolais, Loire, Northern Spain and the Willamette Valley.
What are your favorite wines at Castagna right now?
Wines from under-appreciated wine regions usually get me excited as the quality and the price point make them easy to sample to diners and staff. A favorite right now is the 2010 Domaine Sigalas Assyrtiko from the Greek island of Santorini. It's the perfect mix of orchard fruit, white stone, and sea breeze.
What tips do you have for someone afraid of talking to a wine expert or choosing a wine from a large list at restaurants?
You should never be afraid to ask questions at any restaurant, not just ours. Creating a large wine list is only part of a sommelier's job. Training the staff to make people comfortable and being available to customers is just as important as crafting an excellent selection. You can also prepare yourself a bit as a diner: be ready to describe the last wine (or cocktail!) you enjoyed. Do you like to taste the fruit? Or do you like more earthy, peppery flavors? Are you looking for richness, easy-drinking, or both? Here's another good tip: try to note the alcohol levels of the wines you enjoy, as this has a bigger effect on the wines flavor and texture than you might think.
What is different and/or challenging about pairing wines with Castagna's food?
For many years I thought mainly about regionality when considering a wine pairing. The old trope is 'if it grows together is goes together.' In most cases the wines and foods of a given region co-evolved, and that the wines will match the food is just a given. With Castagna's cuisine I need to think more deeply about each dish. What influences went into the dish? Which ingredients? But most importantly, is the dish loud or soft, forward or subtle? I find myself thinking more about a dish's acidity and salt levels than ever before. A wine should compliment and hopefully elevate a dish, but never drown it out.
What are your favorite places in Portland to drink wine?
Portland is a great city to enjoy wine. Some of my favorite places include Bar Avignon and Kir. Some days, however, I just want a beer. If it's a Sunday my favorite place to go is Upright Brewing, located on North Broadway.
Castagna 1752 Southeast Hawthorne Boulevard; (503) 231-7373
Dinner Wednesday through Saturday starting at 5:30, reservations recommended.