WINE WEDNESDAY
5 Questions with Sommelier Savanna Ray
Wildwood's wine director shares her tips to make sure you order a wine you love, every time.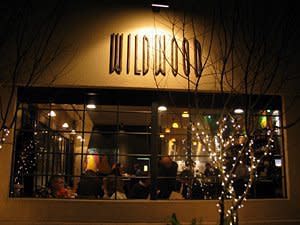 Wine Director Savanna Ray wants you to drink more wine. As a native Oregonian, she's grown up with Portland's exponentially expanding love affair with vino, and now spends her time spreading the love to new and seasoned sippers alike.
Ray is currently an International Sommelier Guild instructor and the head of the wine program at Northwest Portland institution Wildwood, and she's set on getting folks to know what they like to drink with or without an expert at their side. Wildwood features weekly "No Somm Sundays", a night of free corkage encouraging diners can bring in their own bottles from home to enjoy along with chef Dustin Clark's Sunday Supper. A wine director promoting a Somm-less sip? Now that's dedication to the cause.
I sat down with Wildwood's head wine honcho to get the scoop on where she started, what she's loving now, and how to tackle wine-list phobias.
1. What did you drink in your early wine years, and how has your palate changed?
In college I drank jug wine, yes, Carlo Rossi and E&J Gallo…It was cheap and it was wet. In my early twenties I moved on to inexpensive mass-produced wines like Penfolds, Gato Negro, Ravenswood Zinfandel, mostly reds, but my palate started to really change around the age of 24 when I started tasting a lot at work. It was all over from there.
2. What are your favorite wines on your list right now?
I am in love with Teutonic Wine Company- they do this great 2010 Chasselas from the David Hill Vineyard that is really unique—and goes so well with all the fresh produce we have at the restaurant. My other favorite sipper is one we have by the glass, Walter Scott's 2010 Deux Blancs, which is 90% Pinot Blanc and 10% Pinot Gris. It is so fresh, clean and goes down really easily.
3. What tips do you have for someone daunted by a large wine list at restaurants?
Don't be afraid to ask for help. That's what we are here for. If there is a Sommelier or a wine director, they will be your best friend in finding you what you are looking for. I think the common misconception about Sommeliers is that they will be stuffy and unapproachable, but our job is to make you feel comfortable and make your experience the best one it can be.
4. When is it better to order by the bottle instead of by the glass?
Bottle selections are better with larger groups or if you are with someone who wants to drink something similar. That's why I love half bottles, they are great if you are dining alone, or if you want a different wine with each course. I look at half bottles as extensions to the glass-pour list. In general, you will get a better deal on bottles, but I feel lucky at Wildwood because my mark-ups are not as high as some other places where I have worked. I have the luxury of pouring higher-end glass-pours at more affordable prices.
5. What are your favorite places in Portland to drink wine?
I love Metrovino because they have everything available by taste, glass or bottle, which allows you to try so many different things. They have that giant, high-tech wine preservation system, so they often have things available to taste that I would normally not be able to afford (like Château d'Yquem, Vega Sicilia, and Grand Cru Burgundies). I also think that Bent Brick is fun because wines are poured from the keg. The kegs make their wines less expensive because the wineries don't have to invest in bottles, labels, and corks so you can get a great local glass pour at a fantastic price.
Wildwood Restaurant 1221 NW 21st Ave. (503) 248-9663.