FOOD AND DRINK EVENTS
Chef-Powered Brews
Breakside Brewery is teaming up with Portland's top chefs to launch a year-long series of restaurant-inspired beers.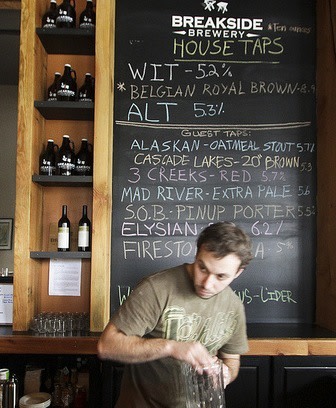 Given Portland's reputation for producing outstanding food and killer beer, we're no strangers to high-end mashups of brews and chews. From burger and beer festivals to haute cuisine beer pairing dinners to brewpubs with truly top-notch menus, Portland's homegrown breweries and restaurants know how to whet our appetites and wet our whistles.
In the spirit of such collaboration, Breakside Brewery's (820 NE Dekum) owner Scott Lawrence has announced a year-long project featuring monthly releases of chef-powered brews. Throughout the year, twelve of Portland's top chefs (including Aaron Barnett of St. Jack, Andy Ricker of Pok Pok, Gabriel Rucker of Le Pigeon andLittle Bird, Naomi Pomeroy of Beast, Cathy Whims of Nostrana, John Gorham of Toro Bravo and Tasty & Sons, plus many more) will join brewmaster Ben Edmunds in Breakside's beer lab to create a signature beer to pair with their culinary vision.
The first beer in the series—the creation of Wildwood's beer loving sous chef Paul Kasten—is an English-style ale brewed with molasses and aged in oak. Grab a pint of the limited-edition beer, now on tap at Breakside and Wildwood, and look out for the upcoming releases of chef-powered brews in the coming months.