MARKET EATS
Chef in the Market: Kathryn LaSusa Yeomans
This talented farmers' market chef is next in our summer series of free cooking demonstrations.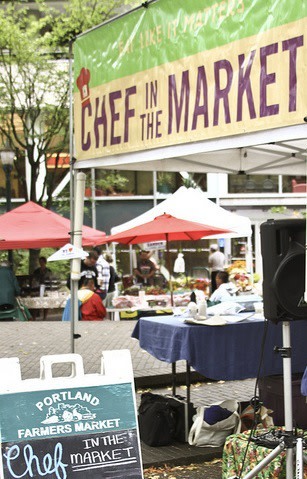 Get your notepads—and your appetites—ready! Every Saturday, all summer long, I'll be hosting a free cooking demo with one of Portland's top culinary talents in front of a crowd of hungry market-goers at the Portland Farmers' Market at PSU.
For Chef in the Market this week, come on down to the PSU market at 10 am to meet, greet, and eat the market-fresh treats from Kathryn LaSusa Yeomans, chef of The Farmer's Feast and culinary demonstrator for many of your favorite farmers' market growers. You may recognize Kathryn from her weekly stints cooking at the Springwater Farm mushroom booth and leading culinary demonstrations at farmers' markets throughout the Portland area, but this weekend she'll be sharing her secrets with us.
We'll be making one of Kathryn's favorite summer dishes, delicious plum gnocchi (you can get a sneak peak of the recipe on Kathryn's blog). We'll also be sharing tips and tricks from behind the scenes of your favorite farmers' market booths, and for the first time ever, we'll have a sign language interpreter, Jenny Kidd, joining us for the demonstration to make farm-fresh cooking accessible to everyone!
In order to get our bellies and brains in gear for the main event this weekend, I sat down with Kathryn to sniff out her market secrets to share with all of you. See you on Saturday!
Which Portland farmers markets do you frequent?
On Wednesdays, I cook at the Springwater Farm booth at Downtown Portland's Shemanski Park market and the Moreland Farmers Market. On Saturday, I split my time between the grand PSU Portland Farmers Market and the Lake Oswego Farmers Market. Sundays, I'm at Hillsdale Farmers Market, where I do a "Feed Me Fresh Cooking Series Farmers Market Demo". Sometimes, just for fun, I visit Lloyd Farmers Market on Tuesday, or the Buckman Farmers Market on Thursday. There's a special place in my heart for the Montavilla Farmers Market, where I first started doing The Farmer's Feast culinary demonstrations. I love that the various neighborhood markets cultivate their own vibe.
What seasonal ingredients are inspiring you right now?
I never have to worry about finding something that I want to cook, and when a farmer talks about a new potato he's helping develop, or the apples that make phenomenal tarte tatin, I get all delighted and chef-dreamy. Right now I'm making lots of pickles…cauliflower pickle, pepperoncini, bread & butter chips, and pints of pickled peppers.
What does the farmers' market mean to you?
I've always loved farmers' markets. When I was a kid, I'd get really excited about going to the farm stand or to U-Pick at local orcahrds. There is just a wonderful feel to it all. The produce is so vibrant and beautiful, and there's something pure and grounding about being surrounded by so many fresh things. Is there a better place than the Farmers Market?
Picture this: It's Saturday morning and the PSU market is your brunch buffet. What would be your perfect wake-up meal?
If it were a cool morning, I'd have a ridiculous amount of food from Pine State Biscuits (I have a real weakness for their biscuits and gravy), washed down with Cafe Velo coffee. If it's hot, maybe a bagel with lox and cream cheese from Tastebud or a piece of pie…from each vendor that has pie!
Chef in the Market 10 am, FREE, in the middle of the farmers' market at Portland State University in the South Park Blocks between SW Hall & SW Montgomery.