MARKET EATS
Chef in the Market: Matt Christianson
Urban Farmer's chef is next in the summer series of free cooking demonstrations at the PSU Portland Farmers' Market.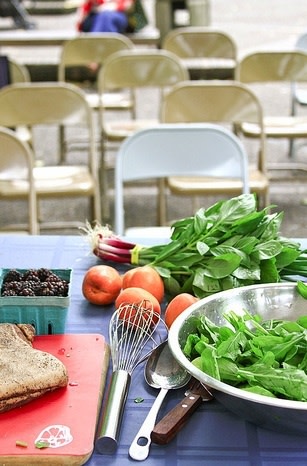 Get your notepads—and your appetites—ready! Every Saturday, all summer long, I'll be hosting a free cooking demo with one of Portland's talented chefs in front of a crowd of hungry market-goers at the Portland Farmers' Market at PSU.
For Chef in the Market this week, come on down to the PSU market at 10 am to meet, greet, and eat the market-fresh treats from Matt Christianson, chef at Urban Farmer, the restaurant in the eighth floor atrium of the Nines Hotel (525 SW Morrison St; 503-222-4900). Matt's known for his top-quality steaks, popular weekend brunch (with a Bloody Mary bar), and satisfying Happy Hour, but this weekend he'll be sharing his secrets with us.
We'll be making a few of Matt's favorite summer dishes—including seafood and late summer vegetable minestrone with saffron cavatelli and lobster broth. We'll also be sharing tips and tricks for picking the best Oregon meat, selecting top-notch summer produce, and making the best-ever Bloody Mary. This year's Chef in the Market demos have been well attended, so arrive early to snag a seat and a spoon—there's always a free tasting at the end.
In order to get our bellies and brains in gear for the main event this weekend, I sat down with Matt to sniff out his market secrets to share with all of you. See you on Saturday!
Which Portland farmers markets do you frequent?
I love the PSU Farmers' Market on Saturday mornings, the Monday market at Pioneer Courthouse Square, and the Wednesday market at Shemanski Park on the South Park Blocks.
What seasonal ingredients are inspiring you right now?
This month I'm loving the fresh tomatoes, peaches, and beans. We shop at the farmers' market for the restaurant as much as possible. Everyone on my culinary team is very involved in forming relationships with farmers throughout the area. It's amazing to see the community's involvement in itself—everyone supports everyone else in a sustainable cycle.
Chef in the Market 10 am, FREE, in the middle of the farmers' market at Portland State University in the South Park Blocks between SW Hall & SW Montgomery.