FOOD AND DRINK EVENTS
Eat Beat Weekly Planner
Our digest of Portland's top upcoming food and drink events, including a free butchering demo, winemaker's dinner, and an oyster bus.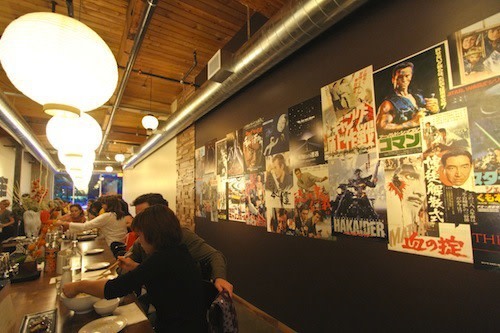 Get out your calenders! It's time for this week's list of upcoming food, beer, and wine events to help you stay in the know. Friendly tip: For a great round-up of Oktoberfest events in Portland, check out Portland Monthly's drink blog, Bar Pilot.
Free Olympic Provisions' Butchering Demo at the PSU Portland Farmers' Market
What: Join Eat Beat's Allison Jones and Olympic Provisions Elias Cairo and Joshua Graves for a Chef in the Market of a different sort. Watch the OP team break down a pig from Square Peg farm, learn about the various cuts, and get inspired for your own home curing projects. Best of all, it's free!
When: Saturday, October 1, 10 am.
Where: In the middle of the farmers' market at Portland State University in the South Park Blocks between SW Hall & SW Montgomery.
How Much: FREE!
Wafu's Saké Pairing Dinner
What: Celebrate International Sake Day this weekend, with a pairing menu at chef Trent Pierce's new restaurant Wafu. The eight-course (yes, eight!) meal will feature plenty of Pierce's signature seafood dishes including salmon belly with silken edamame, charred mackerel with matsutake mushrooms, and tuna with foie gras, green apple, cucumber, and white soy.
When: Saturday, October 1. Two seatings, at 5:00 pm and 8:30 pm.
Where: Wafu 3113 SE Division St.
How Much: $150 per person, all inclusive. For reservations, call 503-236-0205 or email [email protected]
Wetlands & Wellies Benefit Dinner
What: Join five local chefs—including Nostrana's Cathy Whims, Wildwood's Dustin Clark, Riffle's Ken Norris, South Park's Broc Willis, and baking goddess Kim Boyce—for Wetlands & Wellies, a four course meal to benefit Tualatin's Hedges Creek Marsh wetlands preservation.
When: Sunday, October 2
Where: Hedges Creek Marsh in Tualatin, Oregon.
How Much: $125 per person, including wine and cocktail pairings. For ticket info, visit the Wetlands website or call 503-691-1394.
Brasserie's Bretagne "Sunday Table" Dinner
What: This intimate, seven-course family-style meal from chefs Pascal Chureau and Michael Hanaghan will feature flavors from Brittany in Northwest France. The menu is set to include maple-cured salmon tart, pork confit crepes, cider-braised chicken with confit butterball potatoes, and more (as well as cider, beer, and wine pairings). The rustic French restaurant's "Sunday Table" series highlights a different region each month—upcoming cuisines include Champagne and Normandy.
When: Sunday, October 2nd at 6 pm.
Where: Brasserie 626 SW Park Ave.; 503.236.3036.
How Much: $39 per person, including beverage pairings. Reservations required.
H5O Bistro & Bar Winemaker Dinner
What: Join H5O chef Nick Yanes for a fall hued dinner paired with wines from Johan Vineyards of Rickreall, Oregon. Menu highlights are set to include roasted heirloom tomato with cucumber "spaghetti" and yogurt ice cream, Dungeness crab salad with brown butter cake and red curry, and Oregon venison with wild mushrooms.
When: Thursday, October 6, 6 pm.
Where: H5O Bistro & Bar 50 SW Morrison Street
How Much: $79 per person. For reservations, call 503-484-1415 or e-mail [email protected]
EaT's 2011 Oyster Bus
What: Join the folks behind North Williams' popular oyster bar for a field trip to the source of some of the Pacific Northwest's top shellfish, Chelsea Farms in Olympia, Washington. Gear up for a day of oyster info, flowing brews from Double Mountain and Lompoc breweries, and plenty of briny, shelled goodness with the people who know shellfish best.
When: Saturday, October 8th
Where: Get on the bus at EaT: An Oyster Bar at 3808 N. Williams Ave.
How Much: $80 per person, including all food and drinks. Call 503.281.1222 for more info.
Know about a great event coming up that should be on our radar? Shoot me an email at [email protected] or give me a shout over on Twitter at @allisonejones. Now get out there and start eating!