FOOD AND DRINK EVENTS
Eat Beat Weekly Planner
Portland's top upcoming food and drink events, including a beer release, chocolate chorizo salami, and several dinners with truly international flavors.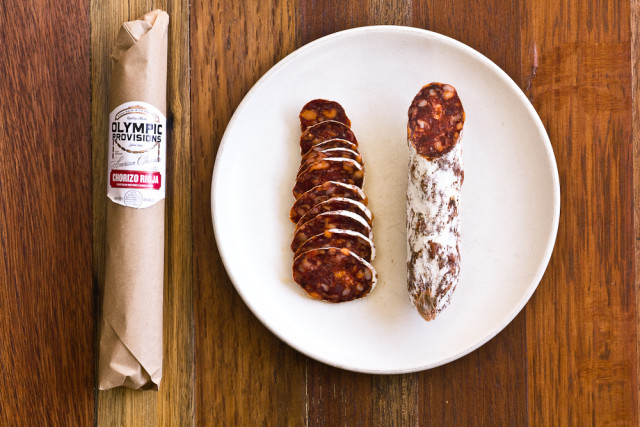 Get out your calenders! It's time for this week's list of upcoming food, beer, and wine events to help you stay in the know.
Bobtoberfest Release Party at 23 Hoyt
What: Head up to Northwest 23rd for an evening of beer, nibbles, and brew talk for the release of Heater Allen's Bobtoberfest beer. McMinville's Heater Allen brewery releases this Oktoberfest-style beer (named after the owner's late brother Bob) every year, known for its bright amber color and malty smoothness. Twelve dollars gets you in the event, one Bobtoberfest beer, and paired hors d'oeuvres. Rick Allen, Brewmaster of Heater Allen, will be in attendance to chat and answer questions.
When: Tuesday, September 20, 6 p.m.
Where: 23 Hoyt 529 NW 23rd Ave.; 503.445.7400
How Much: $12, beer and paired appetizers.
Autumn Harvest Pop-Up Dinner at Otto
What: Join chef Daniel del Prado (formerly of Paley's Place) at this chic Hawthorne restaurant for an autumnal dinner featuring the flavors of Emilia-Romagna. Think fresh egg-yolk hued pastas, house-made burrata, pork Bolognese, potato gnocchi with braised rabbit, and a whole menu of fall flavors from Italy available for one night only.
When: Saturday, September 24th; 5 to 10 p.m.
Where: 1852 SE Hawthorne Blvd.; Reservations required: 503.517.7770
How Much: Antipasti $8-$13; Pasta Course $8-$12; Entrees $12-$15; Dessert $7.
Olympic Provisions Rioja Wine Pairing Dinner
What: In celebration of Olympic Provisions's Chorizo Rioja, chef Alex Yoder will be preparing a full Rioja supper at the charcuterie empire's Southeast Portland location. The dinner will feature wines from the famed R. Lopez de Heredia estate in Rioja, as well as charcuterie, heirloom tomato and melon salad, baby octopus with fried potatoes, pork meatballs with fresh chorizo, and chocolate chorizo salami to top it all off.
When: Sunday, September 25th at 6 pm
Where: Olympic Provisions Southeast at 107 SE Washington
How Much: $55 dinner + $45 optional reserve wine pairings from R. Lopez de Heredia. Reservations required, email [email protected].
The Portland Polish Festival
What: Head up to the Portland Polish Festival this weekend for two days of pierogi, Polish beer, and non-stop polka in North Portland. Polish food fans will be treated to three kinds of Pierogi, Polish sausage, cabbage rolls, potato pancakes, and traditional Polish desserts. The beer garden will feature imported Polish beer (Zywiec and Okocim), Polish honey wine, and Widmer brews.
When: Saturday, September 24 (11 am to 10 pm) and Sunday, September 25 (noon to 6 pm)
Where: St. Stanislaus Polish Catholic Church; 3916 N. Interstate Ave
How Much: Free!
Brasserie's Bretagne "Sunday Table" Dinner
What: This intimate, seven-course family-style meal from chefs Pascal Chureau and Michael Hanaghan will feature flavors from Brittany in Northwest France. The menu is set to include maple-cured salmon tart, pork confit crepes, cider-braised chicken with confit butterball potatoes, and more (as well as cider, beer, and wine pairings). The rustic French restaurant's "Sunday Table" series highlights a different region each month—upcoming cuisines include Champagne and Normandy.
When: Sunday, October 2nd at 6 pm.
Where: Brasserie 626 SW Park Ave.; 503.236.3036.
How Much: $39 per person, including beverage pairings. Reservations required.
EaT's 2011 Oyster Bus
What: Join the folks behind North Williams' popular oyster bar for a field trip to the source of some of the Pacific Northwest's top shellfish, Chelsea Farms in Olympia, Washington. Gear up for a day of oyster info, flowing brews from Double Mountain and Lompoc breweries, and plenty of briny, shelled goodness with the people who know shellfish best.
When: Saturday, October 8th
Where: Get on the bus at EaT: An Oyster Bar at 3808 N. Williams Ave.
How Much: $80 per person, including all food and drinks. Call 503.281.1222 for more info.
Know about a great event coming up that should be on our radar? Shoot me an email at [email protected] or give me a shout over on Twitter at @allisonejones. Now get out there and start eating!