FOOD AND DRINK EVENTS
Eat Beat Weekly Planner
We've got the scoop on the city's best food and drink events coming up this month, so grab your calendars and get going on those RSVP's.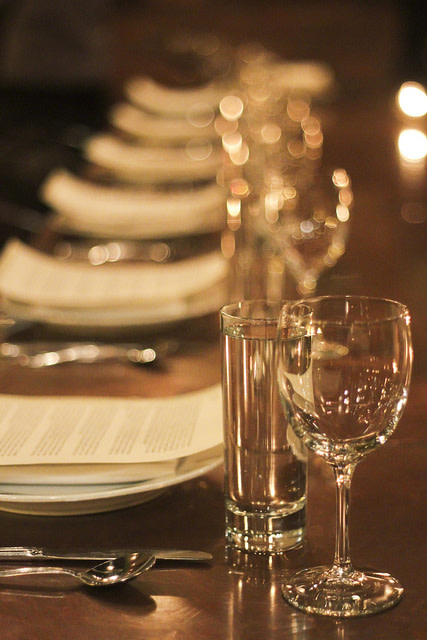 Starting this week, Eat Beat will be putting together your go-to list for the upcoming weeks' top food, beer, and wine events to help you stay in the know. The best thing about food and drink events in Portland is that they're always great ways to get to know the people behind the edibles and sipables that are putting this city on the map. Rub shoulders with top chefs, the brains behind the brews, and the restaurant owners who make it all possible—all while sampling the best menus and drinks around.
Know about a great event coming up that should be on our radar? Shoot me an email at [email protected] or give me a shout over on Twitter at @allisonejones. Now get out there and start eating!
NE Killingsworth & 30th Restaurant Row Block Party
What: An evening of free food from Yakuza, DOC, Autentica, Cocotte, and coffee from Extracto to celebrate the end of these glorious summer nights. Bring the whole family for a celebration of community building through successful restaurants, with live music and some delicious bites.
When: Monday, September 12th from 6 to 9 pm
Where: Northeast 30th & Killingsworth
How Much: FREE, but bring cash for drinks and sidewalk sales from the surrounding shops.
Bastas Trattoria Tuscan Pig Roast
What: Chef and owner Marco Frattaroli is roasting up a whole pig and preparing a full Tuscan dinner for the whole family. The juicy slow-roasted pig will be carved at the table and served with plenty of Tuscan side dishes. To accompany your meal, explore the extensive Italian-heavy wine list, featuring a well-curated selection of Chianti, Nebbiolo, Rosso and Vino Nobile di Montepulciano, Morellino di Scansano, Barbera d'Asti, Carmignano, and many more.
When: Monday, September 12 from 6:30 pm to close
Where: Bastas Trattoria 410 NW 21st Street
How Much: $40 for plates of pig and several Tuscan-inspired side dishes For reservations, please call 503-274-1572
Red Ridge Harvest Dinner
What: Red Ridge Farms is celebrating Oregon Olive Mill's 2011 harvest with tours of the olive orchards and surrounding vineyards, plenty of wine, and a Provencal-style dinner from Simpatica's Jason Owens and Laurelhurst Market's David Kreifels. Expect the olive oil to flow freely at this harvest celebration featuring chilled tomato soup with mint, radishes and local olive oil, fried fennel with saffron aioli, grilled zucchini and new potato salad with Nicoise olives and country pate, grilled whole snapper with lemon and herbs, and a spit-roasted lamb from SuDan farms.
When: September 24 at 5 pm
Where: Red Ridge Farms, 5510 NE Breyman Orchard Road, Dayton, Oregon.
How Much: Tickets are $110, all food, wine, and gratuity included. Reservations are required: 503-864-8502
Nicky USA's Wild About Game
What: A full day celebration of Oregon's best game birds and meats, featuring a celebrity chef competition, food and wine tastings, and culinary demos from the Northwest's game experts. See Eat Beat's full coverage (and enter to win tickets!) here.
When: Sunday, September 18th from 11 am to 4 pm.
Where: Resort at the Mountain in Welches, Oregon
How Much: $35, For more information, call 503-234-4263 or email [email protected]
Cooks, Corks, and Co-Conspirators
What: A Saturday gathering of art, wine, and food lovers at the Daily Cafe in the Pearl, featuring works by mixed media artist Korey Gulbransdon and a food and wine paring menu. Dishes are set to include raw tomato soup paired with Terenzuola Vermentino Colli di Luni, seared scallops with corn puree and chorizo paired with 2009 Ransom and Le Rocher des Violettes Cabernet Franc, and a lemon-basil sorbet.
When: Saturday, September 10, at 6:30
Where: The Daily Cafe in the Pearl, 902 NW 13th
How Much: $45. Call 503-242-1916 for reservations.