OPENING WATCH
EuroTrash Opens Second Cart
The "trashy" cart's second neon-pink-and-teal outpost hits one of Downtown Portland's biggest pods today.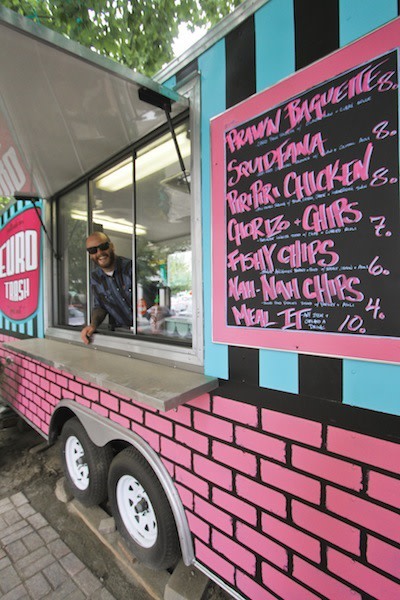 Attention fans of the Good Food Here cart pod's brightest resident: EuroTrash, the neon bastion of Portlandified Portuguese street food, now has a second location, open today on SW Washington and 10th.
EuroTrash's owner Charles Thomas is now serving up some of his signature sandwiches for the Downtown crowd: think Prawn Baguettes (grilled curried prawns with a cold cilantro curry coconut slaw), Piri-Piri Chicken sandwiches (grilled chicken, bacon, cheese, and capers with horseradish slaw) and the delicious Squid Fana (a curried squid sandwich on a toasted french baguette topped with a pile of spicy curry slaw, pictured below). You can make any sandwich a meal, with fresh-fried chips and a drink for just $10.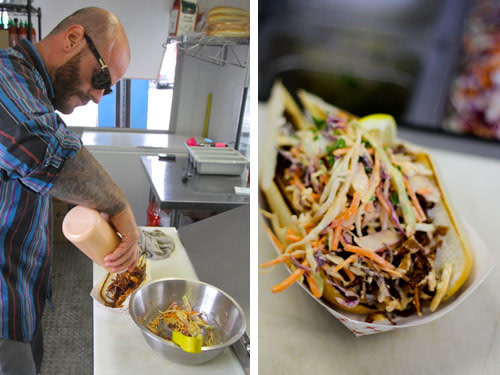 Also on the menu? EuroTrash's signature adventurous and addictive Fishy Chips—breaded, fried whole anchovies—served up with "Trashy Sauce". The cart's west-side location is now open from 11 am to 4 pm, perfect for a trashy lunch break.
EuroTrash Westside location: Downtown Carts at SW 10th & Washington; Eastside location: 'Good Food Here' Food Carts SE 43rd Ave. & Belmont St.