HAPPY HOUR OF THE WEEK
Get Blue For Happy Hour
Now that Bluehour's new chef has revamped the dinner menu, he's turning his sights on the eatery's happy hour offerings.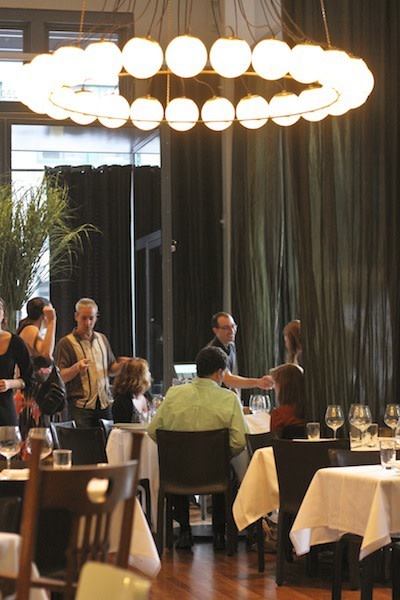 Bluehour has always been a hot spot for happy hour. The reliable burger, steak frites, and cheese plates have drawn the crowds into the sexy and sophisticated Pearl District perch for some after-work nosh for over a decade. While those classics are still on the menu, Bluehour's new chef Thomas Boyce has taken them to the next level—while adding his own signature international small plates to the mix.
The new "Happy Bluehour" menu features updated versions of the eatery's classics, including a new-and-improved smoked bacon-topped Bluehour burger and grilled prime steak frites, $1 snacks (think garam masala-spiced nuts, crispy chickpeas, and cayenne pepper almonds), $2 vegetarian slider-sized grilled eggplant sandwiches with cool cucumbers and braised garbanzo beans (my favorite item on the menu), $3 cuban sandwich or Boyce's signature smoked onion rings with paprika aioli (which sell out every night), $4 cheese plates and fresh bruschetta, and a fantastic $5 "Butcher's Board" piled high with housemade terrines, pate, cured meats, and pickles.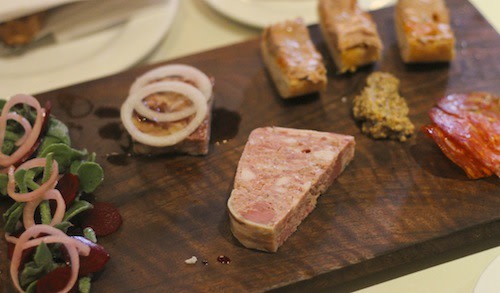 On the liquid side of the libations, Bluehour offers up some great $20 happy hour bottles of wine (with nightly sparkling, red, and white selections), $4 draft pours of local beers (think Hopworks Organic Lager, Laurelwood's Tree Hugger Porter, and Double Mountain Kolsch), and a selection of craft cocktails from Bar Manager Bradley Dawson for just $6.
With prices like these, you can fill up on a table of food and soak up the posh ambiance on the cheap. For a memorable date night grab a corner seat inside, and for more casual outings, snag a patio table and watch the hustle of NW 13th's Pearl District crowd. You'll be sure to attract some looks of envy as you turn happy hour blue.
Bluehour 250 NW 13th Avenue, at Everett Street; 503-226-3394
Happy Bluehours: 4:00 to 6:30 Sunday to Friday, Saturdays from 5:00 to 6:30.