Beer Bulletin
Much Ado About Voodoo
Rogue's Bacon Maple Ale is here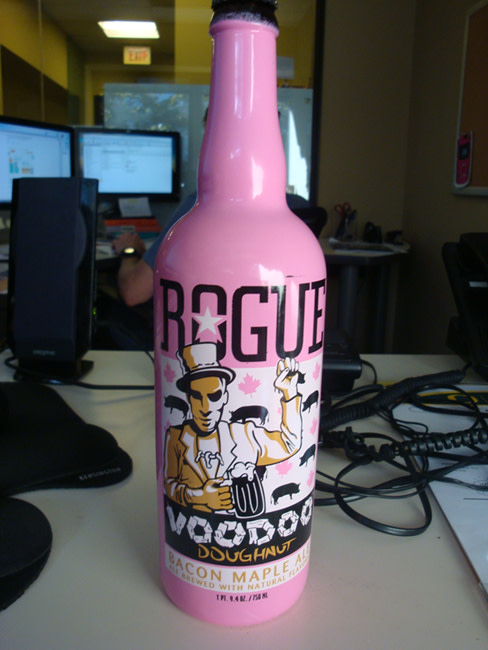 The big pink bottle arrived at the office last Thursday, wrapped in a bright pink bag, and accompanied by a souvenir condom. Behold, a whimsical craft-beer collaboration between Rogue Brewing and Voodoo Doughnuts, the much ballyhooed Bacon Maple Ale, brewed in honor of Voodoo's signature pastry. Upon setting it down on my desk, my intrepid office-mates reacted as if a rattler were on the loose. "Nothing good could possibly come out of a bottle that color. Don't open it!" cried web producer Julie Reposa. And thus far I haven't. Since this sweet bacon brew is only available by the case for $156, I think I'll bide my time.
For the most part, reactions to the Rogue/Voodoo brew seem to echo Julie's sentiment.
Willamette Week "A foul abomination."
Portland Mercury "We had a quick tasting here at the office, and the results ranged from "no" to "oh!" to "jerky" to "campfire" to "that's not good" to "I don't like it."
Brewpublic "The first sip came across as a bit dry but the mouthfeel of the beer offered up something more similar to a liquid version of a smoky dry piece of bacon."
If you're eager for my analysis, you'll have a long wait. I'm treating my bottle of Bacon Maple Ale the same way I did with M*A*S*H beer, Billy Beer, and other short-lived drinkable novelties. I'm going to banish this taffy-colored vessel to a shelf in the basement and let it increase in value. Because someday, somehow, someone will want to buy it and I'll be on Easy Street. Yes, I'll probably be a full-time drooler at that point, but what the hey? I can play the waiting game too. And to well-heeled collectors of breweriana? You know where to find me.
However, I am nothing if not a dedicated public servant. If enough of my drinking buddies command me to quaff, I'll do it. What say you?