MENU WATCH
Menu Trend: Calabrian Chiles
These peppers are packing a punch on menus across town, so we did a little research to help fans of the hot stuff stay informed.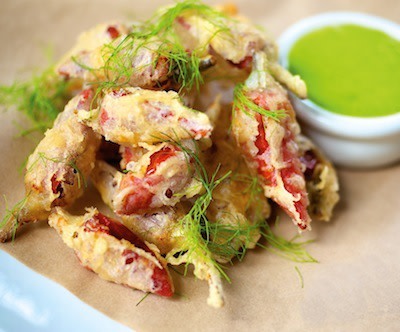 The Trend: Move over Sriracha and generic red chili flakes… there's a new spice in town. Calabrian chiles are popping up on menus throughout Portland on everything from pizza and pasta to fried chicken and sausage.
What they are: Though the term "Calabrian Chile" could refer to any number of peppers (peperoncini) propagated in the Calabria region of Italy, most imported varieties small, spicy, and red. In stores, you'll usually find them packaged whole in brine or ground into a paste with salt and oil.
What they taste like: Balancing spicy, fruity, smoky, and salty flavors, these complex chiles are a great compliment to many savory dishes.
Where you can find them:
- Word on the street is that the trend started with Ken's Artisan Pizza. The popular pie spot's Arrabiata pizza combines their signature tomato sauce, hot Calabrian chiles, mozzarella, and basil for a spicy twist on the Margherita. Diners can also order a side of the chiles to spike their slices for $2.
- Newcomer Wafu adds the chiles to the "Red Dragon" sauce that tops their smoky deep-fried "KFC" chicken. Slices of the chiles also add warmth to Wafu's Mahi Mahi ceviche.
- You can add Calabrian chiles to any Olympic Provisions Northwest sandwich for a buck. Try the spicy paste on the house porchetta sandwich with aioli and balsamic onions – the chiles punch through the decadent pork to bring one of the city's best sandwiches one step higher on the Stairway to Lunch Heaven.
- Part of the new charcuterie collaboration between Paley's Place and Olympic Provisions, Vitaly Paley will be spiking his next custom salami with Calabrian chiles.
- Clyde Common's chef Chris DiMinno combines fresh pappardelle pasta with shrimp, Calabrian chilis, and braised leeks for a satisfying and spicy dish that'll cure what ails you.
- Eastside cocktail haven Beaker & Flask's has featured Calabrian salsa verde in the past, and their recent summer menu highlighted the spicy trend with an appetizer of grilled Tombo tuna, asparagus, radish, and Calabrian Chiles.
- Want to get in on the trend at home? In the latest issue of Portland Monthly, Wildwood chef Dustin Clark shared his recipe for crispy pickled Calabrian chiles with herbed pesto mayonnaise.
No word yet on whether a certain "experimental" ice cream shop has churned up a Calabrian chile flavor, but I wouldn't put it past anyone in this town to combine these kicky peppers with chocolate or other sweets.
See a new ingredient on a menu in Portland and want to know more? Let me do the research for you. Email me at [email protected] or holler at me on Twitter at @allisonejones.