New Bars
First Impressions: Northwest Public House
Just your average locally sourced sports bar with a fine wine list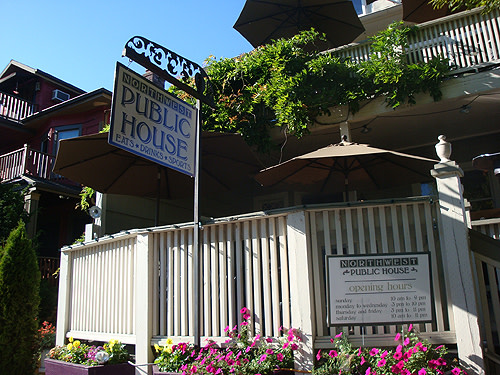 My observational instincts seldom fail me. Normally I can discern with unerring accuracy the nature of a drinking establishment long before I've plopped my butt in a chair and ordered a first round. Velvet paintings on the wall? Hipster dive. Athletic accoutrements and multiple screens? Sports bar. Belching husky guys in cargo shorts? Beer bar.
I have to admit that Northwest Public House (2327 NW Kearney St) momentarily fouled up my bar-dar. Directly in front of the freshly refurbished, early 20th century Craftsman was a sandwich sign announcing the college football TV schedule for the coming weekend—as well as an invitation to sample a smashing new salad and a notice about $15 bottles of wine all night long.
What exactly is the crossover appeal between college sports, a lovely salad, and a wallet-friendly wine list? Upon discovering the that this modest little pub was a split level with three separate dining/drinking/chilling dens, my confusion was slightly alleviated. On sunny afternoons, either of the decks (one out front, one upstairs) offer an ideal harbor for catching a few rays whilst pondering 15 highly rated ("by some wine snob," according to the menu) vintages, 11 taps, and more than 30 beers in the can. The main floor is suited to low-key dining and discourse, while armchair quarterbacks can congregate upstairs in front of the dozen or so HDTV's.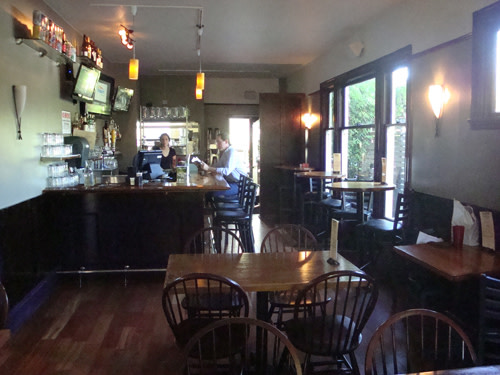 Happy hour at Northwest Public House runs from 3-6 daily, which kind of makes sense given the Northwest Trendy-Third locale. Folks in this part of town take their drinking and lounging seriously, which explains the necessity of an early start. During this stretch, craft beers are a reasonable $3, small plates are $5, or you can wrangle one of their six tasty burgers (Painted Hills beef, quinoa/veggie, and "turducken" are among the protein options) with a side of fries and a pint of brew for $10.
The pub grub is locally sourced and prepared with a deft, artisanal touch. Undoubtedly the jocks in attendance will power through their share of burgers regardless of what pasture Clover the Cow came from, but there's always room for conscientious restaurateurs in this town. No less than seven regional farming operations are noted on the menu by proprietors Jason and Julie Tecza.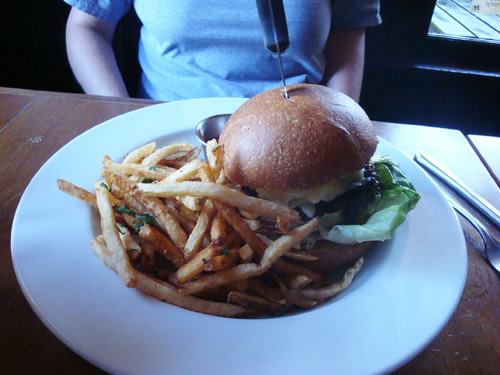 I made short work of the Churrasco, a pile of flatiron steak strips marinated in chimichurri, with a fried egg on top. The relish was sufficiently spicy, but not so much that the peppers overshadowed the chewy, tender steak. My gluten-free girlfriend was giddy to discover that most menu items could be prepared with her food allergy taken into account, and promptly demolished a plate of Dirty Mac (mac and cheese with bacon, ground beef, onions, tomato, and jalapeños), breathlessly describing it as "the best gluten-free pasta" variant she'd ever had.
I don't get over to this part of Portland all that much, but I do feel a return trip is necessary. After all, I haven't tried out the upstairs deck, watched a football game, sipped a glass of vino, or built my own burger yet. Oh, and they serve a mean-looking brunch from 10-2 on weekends. Does Northwest Public House try to wear too many hats? Maybe so, but from what I can see thus far, each one is a neat fit.