EAT HERE NOW
Saraveza, the One-Stop Beer Shop
This North Portland neighborhood stand-by is the place to be for an old-school drinking experience, Midwest hospitality, and Yooper pasties!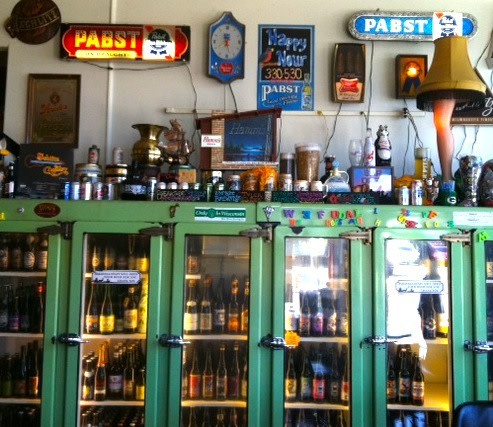 Part craft beer convenience store, part Schlitz memorabilia museum, part crave-worthy eatery, North Killingsworth's Saraveza is a true one-stop shop for a quality food and drink experience. Walk through the door of this corner craft beer haven and you're met with case after case of hard-to-find bottled brews, an imposing list of beers on tap, and a tavern crowd worthy of its own sitcom.
Eat Me: Saraveza's Midwest-grown edible offerings range from the super affordable, bar snackiest of snacks—think Homemade Chex Mix ($3.50), summer sausage with Ritz crackers ($5.50), and pickled deviled eggs ($5)—to gourmet lunch and dinner dishes topped off with guilty-pleasure desserts. You've got to try a signature "Nater" meat pie—a true pasty in the style of Michagan's U.P.—a buttery pastry filled with Porter-braised Painted Hills beef, potato, carrot, rutabaga and onion ($8.50). Pair it with Saraveza's top-notch Caesar salad ($7), and a pint of your favorite beer, and a homemade rice crispy treat and you're good to go.
Other favorites include the cream cheese-stuffed jalapenos ($5.50, topped with house-cured applewood smoked bacon), the Spud Melt ($7.50, with roasted new potatoes, white and yellow cheddar cheese, apple smoked bacon & chives) and the Saraveza Brat ($7.50, Wisconsin-style with Carlton Farms pork, loaded it with house relish, kraut, onions and grain mustard on a brioche bun).
Drink Me: Saraveza has one of the best-stocked selections of American craft and hard-to-find beers, including local seasonal brews and the reliable classics. All beers are available for on or off-site drinkin', so grab a pint and a few bottles to go. Not sure what you're in the mood for? As the friendly "beertenders" to direct you to your next favorite.
Event Watch: This weekend, September 15-17, stop in for Saraveza's "Back to School" Cider Tasting, featuring healthy pours of dry, demi, and sweet hard ciders from Spain, the UK, and Oregon's own Carlton Cyderworks. There'll be apple-driven food specials, including apple turnovers and cider ice cream, so make the most of this early fall weather! More info available over on Saraveza's website.
Saraveza 1004 N Killingsworth St.; 503.206.4252; Open everyday
11 am to midnight.