Market Watch
Slaw: the Best Shredding of the Season
Slaw isn't always "cole." It's a forgiving, flexible and fast market-fresh salad to help summer slide into fall and winter.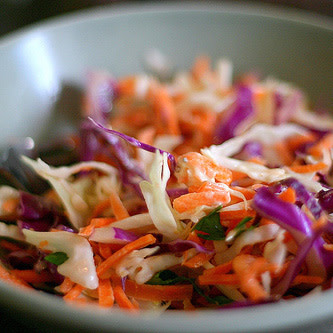 The farmers' market is nothing if not seasonable. Early spring begins the ritual of anticipating the opening of the different markets and starting to check them out. The Portland Farmers Market on Saturdays downtown at PSU is one of the earliest. (A few are year-round, which demands an unseasonable hardiness from farmer and marketer both that is another subject entirely!) By midsummer you may have fallen into a nice routine of hitting a certain market and seeing what's available.
The simple fact that the farmers' market is open, however, doesn't mean it will have a lot of fresh picked anything. Mother nature follows her own schedule, not our calendar. This summer was an example. It barely arrived, and the corn and tomatoes took their time. It's all so un-engineered – a lot like life itself, despite our efforts. Which is where slaw comes in: it doesn't need to be precise.
Usually we know it by its full name, Cole Slaw, but really, we need not be so formal with such a friendly, forgiving, and flexible salad. Slaw is the salad of this season: the transition from summer to fall, where you never know what you'll get minute by minute, rain or sun, clouds or blue sky. Slaw helps us slip from summer veggies into fall, and deal with whatever comes. Because slaw doesn't really require anything in particular, and certainly should not be just the cabbage, carrots and too much mayo that grocery store cole slaw has made so famous.
Dove Vivi, the little Eastside pizza joint (deservedly known for its fabulous cornmeal crust pizza), recently served an inspiring shaved Brussels sprouts and arugula salad that reminded me of the potential of slaw as a salad to ease us into the colder months. Dove Vivi's dish wasn't quite a slaw, since it mixed the finely shaved crispy raw Brussels sprouts with a mess of arugula, but the unusual preparation of the sprouts was entirely slaw-like, and perfect for this time of year.
Basically any vegetable that can be thinly sliced and then tossed with other thinly sliced veggies can make up a slaw. The New York Times food writer Mark Bittman put together a very informative catalogue of great slaw variations using everything from kohlrabi to beets. The dressing can vary too, on the oil and vinegar side or the creamy, mayo/buttermilk side. Either way, the essence of the slaw is that the vegetables – crunchy, raw and thinly sliced – hold up to the dressing so that the whole mess tastes possibly even better the second day then the first, making it perfect for the back to work and school time of year.
And the mix of possible vegetables makes it easy to let the farmers' market offerings be your recipe guide. Here's a good not quite classic slaw recipe to start with.
¼ large head cabbage (shredded)
1 bulb fennel (cut in quarters, cored, and thinly sliced)
2 carrots (shredded)
¼ onion (thinly sliced)
Toss together in large bowl.
For the dressing:
¼ cup mayonnaise (can be low-fat)
1 ½ tablespoons apple cider vinegar
1 ½ tablespoons honey
1 tablespoon fresh parsley (chopped)
½ tablespoon Dijon mustard
½ teaspoon fennel seeds
Whisk together in a small bowl. Pour dressing over vegetables. Toss until well coated. Refrigerate until ready to serve.
(Recipe from Pat Kight, Albany, OR, in the book Simply in Season, by Mary Beth Lind and Cathleen Hockman-Wert)