FOOD AND WINE EVENTS
This Week's Wine Events
Your guide to upcoming vino events including vineyard tours, Pinot in the City, champagne tastings, and a weekend of free organic wine.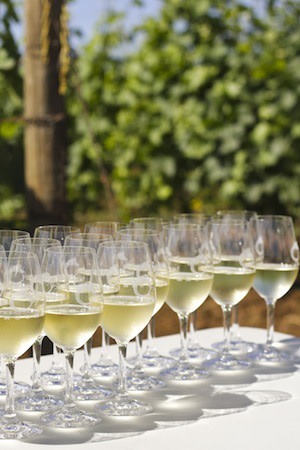 We've popped the corks on some great upcoming wine events to help you ride out the end of summer in style. Drink up!
Champagne Tasting at E&R Wine Shop
Tomorrow, September 7th, is going to be HOT—so plan to cool off with a Champagne tasting at E&R wine shop for just $15. The line-up features nine wines from hard-to-find small growers throughout Champagne's southernmost region of the Aube. It'll be a crash course in independent Champagne producers, but it'll also be just plain delicious. Taste the handcrafted bubbly any time from 6:30 to 8 pm, but be sure to call ahead to give the pourers a head's up (503-246-6101). The shop is located at 6141 SW Macadam Ave.
Pinot in the City
Explore wine country without leaving the city! This Saturday and Sunday, September 10-11, from 2 to 6 pm, sample more than 100 Willamette Valley wineries coming together in Portland for the first time. This is going to be an amazing event, with food and wine flowing freely in the Pearl District (at NW 9th and Marshall). Check out the full line-up of participating wineries, buy tickets (starting at $60), and get more info here.
WillaKenzie Pinot Noir Clone Pairing Dinner at the Heathman
On Thursday, September 15th, join WillaKenzie Estate owner Bernard Lacroute at the Heathman Restaurant (1001 SW Broadway) for an educational evening of wine and food. Ever wondered what all the talk of "clones" in the wine world means? Tour the winery's single clone bottlings to get a feel for the particular characteristics of different Pinot Noir varieties. Tickets cost $55 and include all wine and food. Visit WillaKenzie's website for the full menu and more info. For reservations, call 503-790-7752.
Organically Grown In Oregon Week's Organic Wine Weekend
There may be no such thing as a free lunch, but next weekend there is such a thing as free wine! From September 16th to 18th, some of Oregon's top organic wineries are offering free wine tastings to celebrate Oregon's growing organic wine community. Visit the tasting rooms at Amity Vineyards, Cooper Mountain and King Estate and taste local wines made from certified organically grown grapes. Mention Organically Grown in Oregon Week (OGOW) for a free sampling of their featured tastings.
Patton Valley's Harvest Hike and Lunch
Escape the city for a day and head out to Gaston, Oregon's Patton Valley Vineyard for a behind-the-scenes walk through Pinot Noir vines with winemaker Derek Einberger and owner Monte Pitt before enjoying a wine pairing lunch. The Harvest Hike and Lunch event takes place on both Saturday, September 17 and Sunday, September 18 from noon to 3:30 pm, and tickets are just $45. For tickets and information, contact Patton Valley Vineyard at 503-985-3445 or email [email protected].
Know about a great wine event coming up that should be on our radar? Shoot me an email at [email protected] and I'll help spread the word.